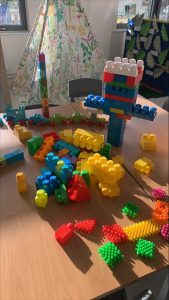 This year is an especially important transition year for the staff and students at Avanti Fields, as we prepare to open our primary phase. I am excited to confirm that we will be opening a Nursery from September 2022! Visits to the school warmly welcomed. Please contact the office on 0116 3266813 for a tour.
This half-term I have a particular focus on continuing to develop the ethos and culture of the school. I was inspired by one of our core principle's earlier this week: 
"We choose how we wish to respond to life and what we nurture within us" 
Reflecting on this principle, our staff were led in a very though-provoking training session by Ms Thakore on Monday. A beautiful analogy of a blossom tree was particularly powerful in focusing our thoughts on the benefits of an all-through provision. The Early Years are like the roots of a blossom tree. They grow from a tiny seed and form a core part of each student's character. The trunk of the tree is our primary phase, where learning multiple subjects in a single classroom, with their teacher takes place. The key knowledge learned in primary enable a stable place for students to begin to branch out when they reach the secondary phase. Some branches may be stronger than others as different interests and specialisms develop. At the end of the branches, we have a beautiful blossom flower – our student's chosen careers and their positive impact on the world around them. Our job as educators is to support the young people in our care to nurture their interests and blossom into compassionate young adults.  
Please read below the changes to our COVID-19 procedures in response to the government guidance released earlier this week.  
Continue to remain safe.  
From Monday 24th January, the wearing of face coverings in lessons will remain a recommended option for students but remain compulsory in communal spaces.  
From Friday 28th January, the wearing of face coverings will also become optional in communal areas such as the corridors and dining hall, as well as the classroom. It does though remain a recommendation particularly if there are vulnerable family members at home. This is in line with the wider lifting of restrictions across the country on this date. This will mean that all students should bring a mask with them to school for Monday to Thursday next week to wear when moving around the school.  
 Students will continue to follow the general government guidance and wear face coverings on public transport, including the school bus service.  
We strongly encourage students to continue with the twice weekly LFT home testing and to follow NHS guidance on self-isolation.  
As a school working with Avanti Schools Trust we carefully monitor the data on numbers of student and staff infections. We also work in collaboration with the local Director of Public Health and the Department of Education. If there are any changes to the current situation, we will seek their advice which could lead to a temporary reinstatement of the use of face coverings across the school.  
Self – Isolation 
Isolation is for 10 days but may finish early if your child has two negative LFD tests on day 5 and day 6 of their isolation period; these tests should be 24 hours apart. If both are negative your child can end their isolation period and return to school on day 6. If either of these tests are positive then your child will need to stay isolating until they have two negative tests 24 hours apart or after 10 days of isolation, whichever is the earliest. Remember the day symptoms begin or the test is positive should be counted as day 0
Absences
To report an absence to the school, parents should contact us by 8:30am.
Email: [email protected]
Phone: 0116 326 6813 (Option 1 to leave a voicemail)
Please remember to state your child's full name, tutor group and reason for absence. If your child is unwell, please could you give a brief description of the symptoms.
Face Masks
Please can parents ensure that children are carrying 2 face masks with them at all times.
Yours sincerely
Miss Bardsley
Acting Principal