"We serve a higher purpose by living a meaningful and satisfying life of contribution." 
 The Avanti Way has six core principles which guide the schools and are a part of the DNA of school life. I would like to draw your attention to one of the core principles today, as it links nicely with the way our student leadership is developing across the school. We now have three branches of leadership: 
School Council: school improvement

 
Students work in committees with various projects or initiatives they want to drive.

 
Senior Prefects: behaviours and attitudes around the school

 
Year 10 (and traditionally Year 11) students who support staff and their peers at break and lunch time, as well as other school events.

 
Form and House Captains: student engagement and enrichment

 
Form captains: work with their form class to ensure everyone has opportunities to participate in school events.

 

House captains (from Year 11): lead their house and work with form captains to organise enrichment activities for their peers.

 
 Look out in our upcoming bulletins as we begin to announce our student leadership team.  
From yesterday, staff and students have the option to continue to wear masks in classrooms and corridors, however it is now not compulsory.  
 Students should continue to follow the general government guidance and wear face coverings on public transport, including the school bus service.  
 We strongly encourage students to continue with the twice weekly LFT home testing and to follow NHS guidance on self-isolation.  
 As a school working with Avanti Schools Trust we carefully monitor the data on numbers of student and staff infections. We also work in collaboration with the local Director of Public Health and the Department of Education. The number of positive cases within the school remains low. If there are any changes to the current situation, we will seek their advice which could lead to a temporary reinstatement of the use of face coverings across the school.  
Badminton  
This week the KS3 boys took part in a badminton tournament at Moat School. The pupils came up against some strong opposition however they showed fantastic resilience and won against Moat School. The matches against Rushey Mead and Soar Valley were close but unfortunately, they proved too strong in the end. It was a brilliant learning opportunity for the Avanti pupils, and they thoroughly enjoyed representing their school.  I was particularly impressed with the outstanding sportsmanship showed by our pupils in both victory and defeat. We look forward now to the KS4 boys' fixture next Tuesday (1/02/2022).  
Football  
Our Year 8 Boys football team made played their county knockout fixture against English Martyrs but unfortunately didn't progress to the quarter finals. We showed great spirit and determination throughout the game and played some great football at times. Our MOTM was Nayan Chauhan as he pulled off some incredible saves, to keep us in the game.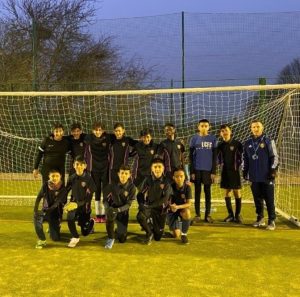 Covid Vaccine (2nd dose) 
NHS staff will be on site on 3rd February 2022 to administer the second dose of the covid vaccine to children who have had the first dose only.  If you have not given consent for your child, they will not receive the second vaccine.   Details of how to give consent are below; 
Visit www.leicsandrutlandimms.co.uk 
Select "Covid -19" 
You will need a code "LE143679" 
Avanti Quest 
Monday 31

st

January 5pm – 5:45pm: Year 10 Avanti Quest Parent Information session

 
https://zoom.us/j/97160391713?pwd=aGhwTjh3TEVDNk45MXp0MURhL2R1UT09 
Meeting ID: 971 6039 1713 
Passcode: 642314 
Year 9 Parent Evenings 
Wednesday 2

nd

February and Thursday 10

th

February, 4pm – 7pm

 
Absences
Please can parents ensure that pupils uniform/ bottles etc are clearly labelled with their name as we have a lot of items of lost property held in school. 
Absences 
To report an absence to the school, parents should contact us by 8:30am. 
Email: [email protected]
Phone: 0116 326 61813 (Option 1 to leave a voicemail) 
Please remember to state your child's full name, tutor group and reason for absence. If your child is unwell, please could you give a brief description of the symptoms. 
Yours sincerely
Miss Bardsley
Acting Principal