Avanti Fields is an exceptional school, and I want to open this week's bulletin with recognition of outstanding achievements for both our staff and students.  
Congratulations to Ms V Kansara for being nominated for the Person National Teaching Awards and being recognised for her outstanding contribution to the education profession, her passion for PE and student leadership, enthusiasm and positivity in all her actions. She is an asset to our school and the education profession! 
Huge congratulations to Tanisha Patel in year 10 who was nominated for the prestigious Lord-Lieutenant's award: 'Young leader of the year'. Although Tanisha did not make the shortlist she has been recognised for her leadership and contributions to the whole school community. Since the start of opening as a new school back in 2018, Tanisha has used her initiative to organise and lead numerous events both in and out of school. She is passionate, committed and embodies the school ethos and values, and truly is the 'best version of herself' every single day!  
A reminder that in the Summer 2 term, the school will be delivering the Relationships and Sexual Education (RSE) component of our PSHE curriculum at Avanti Fields. The school has worked closely with the Trust to develop appropriate resources for our RSE lessons and RSE is not about the promotion of sexual activity. You can find our RSE policy on our website.   
Tea and Talk Event – Year 7
On Monday 23rd May we will be hosting a Tea and Talk event for Year 7 parents. We will be delivering some key information via a short presentation and it is also an opportunity to meet other parents of Year 7 students and help build a stronger community for our Year 7 cohort.   
If you can attend, please complete this google form by Friday 20th May 2022, so we can stock refreshments accordingly. https://forms.gle/oQWkc2aGqB53jkJdA  
Onsite drop off and collection 
Following the May half term break, from Monday 6th June 2022, there will be no onsite drop off or collection of secondary students except for those parents who are blue badge holders.   
Please consider the following options:   
Park and Walk (from TESCO)  

 

Walk from Humberstone Lane/Barkbythorpe Road  

 

Cycle  

 

Public Bus Service  

 
Paid for Bus Service (Beaver Bus).  If you are interested in signing up for Beaver Bus for the next academic year, please visit the Beaver Bus website www.beaver-bus.co.uk and click on: "School Buses" tab followed by "Reservation form".  You will need to complete the reservation form even if your child already travels by Beaver Bus.  
We are also requesting that parents think about whether they need to use Thurmaston Lane as a drop off/collection point for their children. As a school, we are part of a local community, and there have been concerns raised by local residents about the traffic along Thurmaston Lane around school times. We recommend that Thurmaston Lane is for pedestrian/cycle traffic only, and that one of the other suggestions above is used if travelling by car.   
 A massive heartfelt congratulations to our year 9/10 boys who played their first ever fixture. We played Soar Valley in an outdoor cricket match where we lost only by 1 run with 1 ball remaining. However, the boys took a wicket, caught someone out and made one runout all in the last over which made for a very tense close game. Hriday Suresh was our man of the match with his calm approach he opened the batting and stayed in for all 13 overs and scored 24 runs. Also a well done to Ved Tandel for his great leadership qualities as captain. The boys really did us proud by displaying many of the Avanti values and representing the school so well. I look forward to many more cricket fixtures.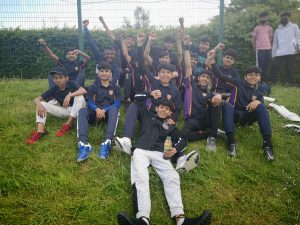 Please be reminded that all snacks at Avanti Fields must be ethos friendly. Our catering team do sell snacks at breaktime for students to purchase.
All snacks MUST be vegetarian, no mushrooms, onions, garlic or eggs.
Students are NOT permitted to bring food or drink from outside on site for lunch.
Students can bring in fruit or veg sticks.
Sweets, chocolate, crisps are NOT allowed as a snack.
Due to severe allergies, nuts are not to be brought into school or on the bus.
Avanti Fields has two volunteer opportunities available within the school during the summer 2 term. 
Exam invigilator volunteers 
We are holding a small round of mock examinations for our year 10 students between Monday 13th – Friday 17th June. This will allow us to have a practice run to see if our planned logistics and arrangements for conducting exams are suitable, prior to students entering year 11. We are seeking a team of between 4-6 volunteers to support the invigilation during the week, alongside our staff members. Volunteers should be available for either an AM or PM or full day session, and hopefully have availability for 3 days minimum. Should you wish to volunteer please email [email protected] .  You will be required to complete a DBS check.
Library support volunteers 
Our library is starting to expand, and a large delivery of books has begun to arrive. We are seeking volunteers who could contribute small blocks of time for the remainder of the academic year to help support the unpacking of the books, stamping books, labelling and organsiation of the books within the library stalls. Volunteer hours are flexible, with an ideal 2-3 hour block of time for each session, within school hours or up to 5:00pm each week day. Should you wish to volunteer please email [email protected] 
Tuesday 3rd May: Queen's Platinum Jubilee school-based Holiday (school closed)
Monday 30th May – Friday 3rd June: May half-term
Wednesday 8th June – HPV Vaccine (Year 8 and 9)
Thursday 9th and Friday 10th June: AST INSET Day (school closed)
Thursday 16th June: Year 7 Parent's Evening
Wednesday 22nd June: Year 7 Parent's Evening
Monday 20th– Friday 24th June: Year 10 Work Experience
Tuesday 28th -June: Year 6 Transition Day
Friday 1st July: Ratha Yatra Chariot Festival Day
Tuesday 5th– Friday 8th July: Year 7 Avanti Quest
Friday 8th July: Last day of academic year
The term dates for 2022/2023 can be found on our website here.
Yours sincerely
Miss Bardsley
Acting Principal