As we draw a close to another week of school it is time to reflect on all that we do and the impact that we have on others. It has been an extremely busy week and one that has demanded time, patience and resilience following the sudden rise in Covid cases and all of the disruptions this causes. The last thing we ever want to do is send a child home due to illness and we never want to close a class. Having one child needing to switch to remote learning is not something we want, never mind a whole class.
To those parents that have been understanding, thank you. To those parents that have smiled, shared supportive messages and commented on the great efforts and attitudes of staff in these difficult times – you are appreciated. To those parents that, despite the disruptions, have not negatively emailed in nor shouted at staff – huge gratitude. The values we do our best to develop in our young children are quite clearly being modelled by many of you at home too.
Building Relationships, Improving Behaviour and Creating Stronger Communities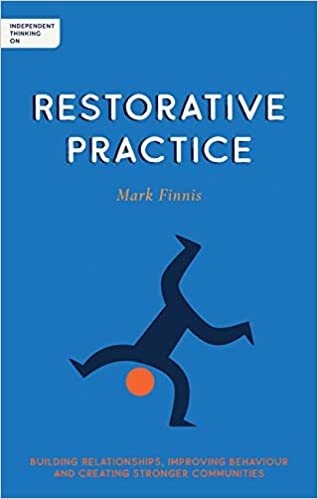 As I write this section of the weekly update, I do so with a considered thought for the people in the community currently struggling with the disruptions caused by enforced closures. As easy as it would be to blame others and disagree with the decisions and direction of, for example, Public Health England, it is sometimes best not to do so. I certainly would not  blame my colleagues for a lower level of quality in the immediate days after a sudden change in practice, especially when they have not chosen that change. I would instead, as comes out from Mark's book, seek to understand. I would want to support those who are suddenly under pressure to share the classwork; get the communications out; and support generally so they can deliver without distraction.
From a parent's perspective, the instant change is in no way helpful and we understand that. We do not know your personal circumstances and whether or not your place of work is supportive or not when, for example you can't go to work. We happen to have several staff off currently due to Covid and whilst they apologise to me for the inconvenience, they also know I support them and it can't be helped. We, as staff at Krishna Avanti Primary School, keep smiling, supporting each other and do our best for your children.
It is quite simply, difficult for everybody. I have written previously about looking beyond the eyes. I understand this as the way somebody may react is not necessarily how they feel. Some of us smile when inside we are sad and some of us blame when we feel we have failed. If you are struggling, reach out and we will support you too. It may be a Zoom chat with a cup of coffee. It may be you would like to check what, why, how and when… We can't perform magic but we can always listen.
Being a good person is the most important thing.
Phil Neville
We currently have £267.25  owed for lunches, a rise from last week's £223.35. Please ensure payments are made to avoid the need for children to be picked up for the duration of lunch next week. We have seven children whose accounts have over £10.00 owed and as such, they will be going home for lunch next week for the full hour. Please do ensure your payments are made in good time.
We do send you reminders but it is your responsibility to keep on top of your accounts.
The number of Covid cases this week has been a huge frustration but, the sharp rise seems to have slowed. We have had a few more cases in various year groups, but nothing alarming. Thank you to all that have been using the LFTs to identify positive cases and keeping your children at home; that in itself will help prevent others from being affected.
We currently have 115 positive cases across the school, made up of:
23 in Foundation Two (isolating)
35 in Year 1 (isolating)
6 in Year 2
17 in Year 3
24 in Year 4 (one class isolating)
5 in Year 5
5 in Year 6
We are monitoring the classes and year groups carefully and as you are aware, have reintroduced 'class bubbles'. We will update you mid-week and very much hope the number of cases drop. As soon as sensible to do so, we want to remove the bubbles. If that is a week on Monday I will be very pleased, but if we need longer then so be it.
Please do keep using LFTs with your children – it does make a difference.
Thank you very much for your continued support. 
Yours sincerely   
Mr Kite
Principal
Krishna Avanti YouTube Channel