Foundation 2 – Bees and Butterflies
Links between home and school, alongside a positive working relationship between staff and families, can make a hugely positive impact on your child's progress.
Please work with us to give your child the very best start in life.
The two Foundation 2 teachers for the 2021-2022 academic year are:
Miss Solanki (Butterflies)
Miss Keshvala (Bees)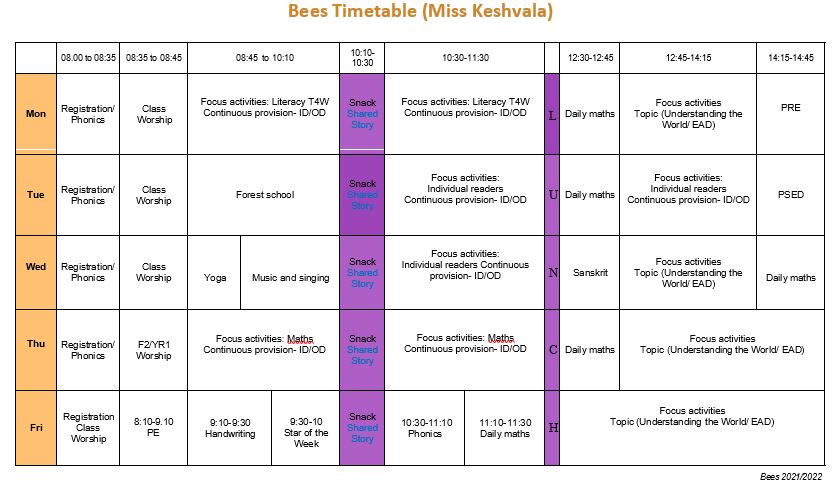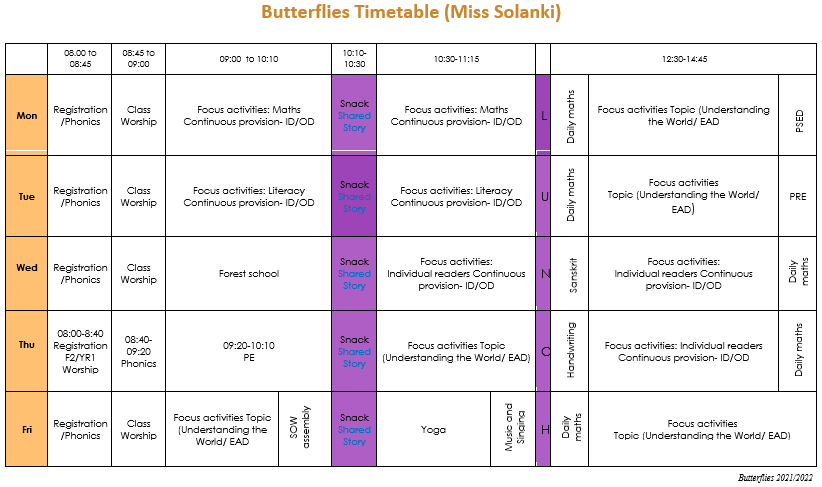 Homework is an important part of school life but it should not be taking over life out of school!
At Krishna Avanti Primary School we expect the children to come to school and work hard. As long as they do that they should be able to go home and do a little homework each week (up to one hour) and enjoy being a child – playing and learning other things through play! Some children do of course really enjoy writing and doing mathematics and other 'academic' things and in these instances, they may wish to spend hours and hours studying and doing homework.
If your child has worked hard at school, any homework given that takes more than one hour may be left (if you so wish). In addition to the homework, children will have words to learn and books to read.
Homework will be given as Flipped Learning. Teachers will set Flipped Learning tasks, as required, on Google Classroom, rather than on a set day of the week. Flipped Learning allows for children to investigate a specific objective prior to the lesson in school.
Home Learning: Google Classroom
Bees Google classroom code: jwtvkqe
Butterflies Google classroom code: ifz6vsr
Parents play a crucial role in their children's early language development. The Government have launched the following campaign to support you. Please do have a look at the website:  https://hungrylittleminds.campaign.gov.uk/
Reading books will be changed weekly. Please ensure that your child's reading record is signed in order for their books to be changed.  Reading books still need to be brought in to school everyday.
Phase 2 word lists. Please click on the links below.
Phase 3 word lists. Please click on the links below.
Physical education is a statutory subject in the National Curriculum and children well enough to be at school are well enough to take part in physical education.
Requests for children to be excused from physical education will never be given. Physical education, like all subjects, will be appropriately adapted for the needs of all children, regardless of permanent or temporary  abilities and injuries. 
All children must change for physical education and remove jewellery for the lessons. If the child is unable to remove jewellery themselves, do not wear it on physical education days.
Physical Education and Yoga for Bees
Friday: Indoor physical education (a tracksuit to keep warm through the day).
Wednesday: Yoga
Physical Education and Yoga for Butterflies
Thursday: Indoor physical education (a tracksuit to keep warm through the day).
Friday: Yoga
*UPDATE 01/09/21: Stay and play will not be taking place at the moment 
Planned and completed visits will be detailed here.
2021/2022 
Friday 24th September – Our Wonderful World (£8 per child).
Monday 8th November – Exploring different machines in our area (free).
Wednesday 19th/Thursday 20th January- Evington Library (free).
 Monday 28th February-Scarf Life Education Visit (£4.29 per child).
Thursday 3rd March-Well-being Adventure workshop (£4.00 per child).
Wednesday 23rd March- Stonehurst Farm (£15 per child).
Wednesday 6th April/Friday 8th April- Church visit (free).
Monday 23rd May – Zoolab (£7 per child)
Thursday 30th June – Bhoomwhacker Workshop (£1.77)
Total to date: £40.06 per child