Uniform
Uniform and achievement have always been a high priority at Avanti House School; we believe the way in which students wear their school uniform reflects the importance which is placed on attention to detail and pride in the school. The smart appearance of our students is regularly commented on by parents of prospective students and visitors to the school.
Orders MUST be placed by 1st August for delivery before the start of the new academic year.

For uniform orders placed over summer, the school are providing a returns service where any items that are too big or small can be given to the school and we will organise the exchange. This will be open for a two week period (commmencing the second week of the new term), after which time we will send items back to Brigade for exchange.

Please be aware that during the busy season, Brigade require 14–21 working days to turn orders around. Therefore it is very important that parents make every effort to select the correct sized garments in the first instance. To help the ordering process, sizing samples are available at the school office for students to try on.

All returns/exchanges required after the 2 week period will need to be returned directly to Brigade using their returns policy (details will be included with your order).
Primary
COMPULSORY ITEMS
SIZES
SIZE GUIDE
PRICE
Avanti Boys V Neck Knitted Jumper

50% cotton, 50% acrylic
Navy
Embroidered with school crest

24″
3–4
£13.65
26″
28″
5–6
7–8
£14.05
30″
32″
9–10
11–12
£15.25
Avanti Girls Knitted Cardigan

50% cotton, 50% acrylic
Navy
Embroidered with school crest

24″
3–4
£14.25
26″
28″
5–6
7–8
£14.85
30″
32″
9–10
11–12
£15.55
Avanti School Tie [YEAR 6 BOYS/GIRLS ONLY]
45″
£4.00
52″
£4.00 +VAT
Avanti Book Bag NON-COMPULSORY

Strong 100% polyester with PVC backing
Velcro fastening and carrying handle
Internal zipped pocket
Slot for name/school tag
Embroidered with school crest

£5.30 +VAT
NON-COMPULSORY ITEMS
SIZES
SIZE GUIDE
PRICE
Avanti Polo Shirt

Comfortable to wear polyester/cotton
Highest quality looks, hard wearing, long lasting
Soft collar with smart button placket
Embroidered with school crest

24″
26″
28″
30/32″
3–4
5–6
7–8
9–11
£7.45
Avanti 'Blue Max' Fleece Jacket

100% anti-pill Polyester polar fleece, 300 gsm
Hanging loop and taped neck seam
Elasticated cuffs and draw cord, full length zip
Top stitched seam detail
Two zip pockets with matching puller tabs
Embroidered with coloured school crest

24″
26″
28″
30″
32″
34″
3–4
5–6
7–8
9–11
11–12
13
£13.75
Avanti Swim/PE Bag

Polyester coated, draw string bag
Embroidered with school crest

£7.45 +VAT
Other compulsory uniform items (can be purchased anywhere)
BOYS
GIRLS
White polo shirt
White polo shirt
White shirt (YEARS 4–6)
White shirt or blouse (YEAR 4–5)
White shirt (YEAR 6)
Grey trousers (not black or charcoal)
Grey trousers or grey below-knee skirt (not black or charcoal)
Black/grey socks
Black/grey socks/tights
Black school shoes (no trainers/boots)
Black school shoes (no trainers, boots or sandals)
SUMMER TERM OPTIONS
Grey shorts
Navy (dark blue chequered – NOT light blue) gingham pinafore dress
What these look like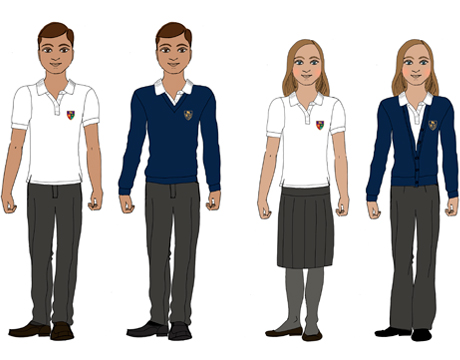 Book Bags and Home School Books/Planners
Children need a school book bag with our logo in the primary phase. This develops positive and organised attitudes to reading and being prepared for school. The book bag must be brought to school and taken home each day, along with their Home School Books.
PE Kit
Children need a change of clothing for Physical Education; this should include blue shorts, white T-shirt, black plimsols, trainers, navy blue jogging bottoms and a warm top. Learning to change out of uniform and into a PE kit is an important learning task for our younger children. It also creates a growing self-awareness of what is appropriate in different settings.
Labelling Your Child's Uniform
It is vital that all children are able to locate their own property as it facilitates early reading skills, independence and self-esteem. Please ensure that all your child's clothing and property including shoes are clearly labelled. Your child's name should appear in lower case letters, with the first letter of their name/surname in capitals.
The most appropriate option is to purchase pre-printed iron-on name labels which will last throughout your child's school years and are easily available online. If you are not purchasing pre-printed labels, then your child's first name must be clearly handwritten with a black, permanent marker pen onto iron-on name labels.
How to purchase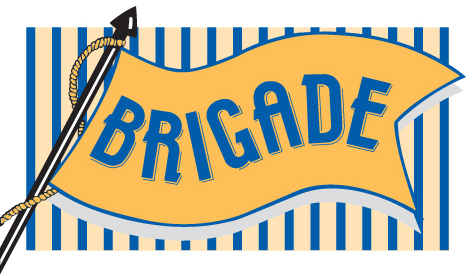 The Avanti House uniform has been chosen to be practical, easy to wash and cotton rich. The full uniform is available from Brigade Clothing via their online service called PARENTS DIRECT.
All orders will be sent directly to you. There is a £3.50 postage and packaging charge on orders below £50. Parents are advised to order early to avoid any delays in receiving items as we expect students to be in possession of all of the items above at the beginning of term.
We advise that all parents sign up to the Brigade newsletter to receive the latest offers and updates. Click here to subscribe.