Welcome to Year 1 – Dancing Dolphins & Talented Turtles
The Year 1 team for the 2019-20 academic year are:
Dancing Dolphins
Miss Patel (Class Teacher)
Miss Raval (LSA)
Miss Korea (LSA – 1:1 Support)
Talented Turtles
Mrs Peshawaria (Class Teacher)
Ms Mistry (LSA)
Ms Moazam (LSA)
Horses comprehension week 3   Lions Comprehension week 3   Monkeys comprehension week 3
Dear Parents/Carers,
Please complete the comprehension sheets according to your child's spelling group. For example – if your child is in the Horses spelling group, they are to complete the Horses comprehension.
Please encourage your child to answer the questions in full sentences and not one-word answers. For example:
Q: Who was the bad character in the story?
A: The bad character in the story was…
A: The wolf.
Please remind your child sentences do not begin with 'because' and to remember their punctuation capital letters, full stops.
Thank you,
Year 1 team
Archives:  
Dear Parents/carers,
Please see the curriculum overviews below. Kindly have a look a the attached documents and discuss with your children what they have covered as they progress through the terms. At times, we may link subjects together for enhanced learning opportunities. Encourage your children to share what they have learnt from the overviews to enable meaningful and engaging conversations about their learning.
Year 1 Autumn 1 Curriculum Overview 2019-2020
Year 1 Autumn 2 Curriculum Overview 2019-2020
Year 1 Teaching for Mastery Presentation for Parents Jan 2020
Dear Parents/Carers,
As often as we can, we put on workshops for parents and carers to learn about schools' approach to teaching. 
We had another successful well attended maths mastery workshop for parents of year 1 on Thursday 23rd January 2020.
The main objective of this workshop was to give parents opportunity to explore resources and getting involved with some of the activities.
We constantly aim to improve our work with parents, so feedback is always very important. 
Below is an example of the feedback from Maths Mastery-focused workshop held in January 2020:
'Good to know concepts used in class so we can reinforce at home.'
'Learning different ways to present maths to my child. Visuals vs just numbers.'
'Making maths accessible using everyday activities and building the confidence of parents.'
'I have a better understanding of teaching for mastery now.'
See the attached power point for your guidance.
National Fitness Day – 25th September 2019
Year 1 had lots of fun taking part in National Fitness Day. They used BBC Supermovers to start their learning in a fun way and help learn facts! They even used their class time to practise skills from their yoga lessons. Have a look at how they did!
E-Safety!
Year 1 have been learning all about E-Safety. They have had some very meaningful discussions. The children have shared some of their thoughts on their classroom door to help promote awareness about keeping safe when online! *Click below to have a peak…*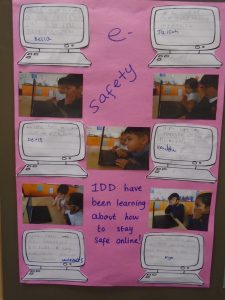 Mothering Sunday March 2018
1TT were planting flowers as part of their Science lesson and the flowering plants were gifts of gratitude for their mothers for Mothering Sunday. We talked about being grateful for everything that our mothers do for us during the week and in our assembly. Then the children wrote an extended piece of writing about their experiences.
"I enjoyed planting because it was fun!" (Rishabh)
"My mum will like the flowering plant because she loves gardening." (Eeshani)
"I liked planting because I got to use the soft, moist soil and decorate my pot for my mum." (Devisha)
Number Bonds to 10 and 20  –  March 2018
Pupils in 1TT have been using concrete resources to help them understand their Maths work better. They used the ten frame and different counters to help support them find number bonds to 10 and some pupils were even able to work out number bonds to 20.
"The ten frame helps me learn better." (Shreeya)
"Using the counters helped me find some number bonds to 20 and I was happy I could work with my partner." (Niam)
"Finding number bonds is easy when using the ten frame and counters." (Divyata)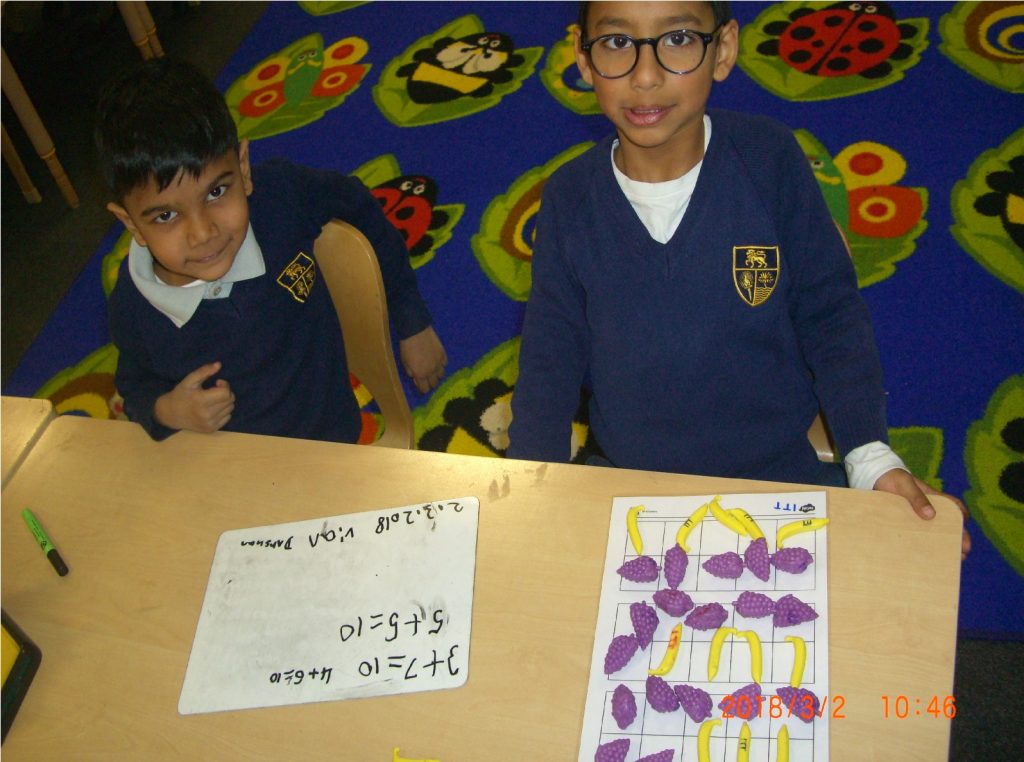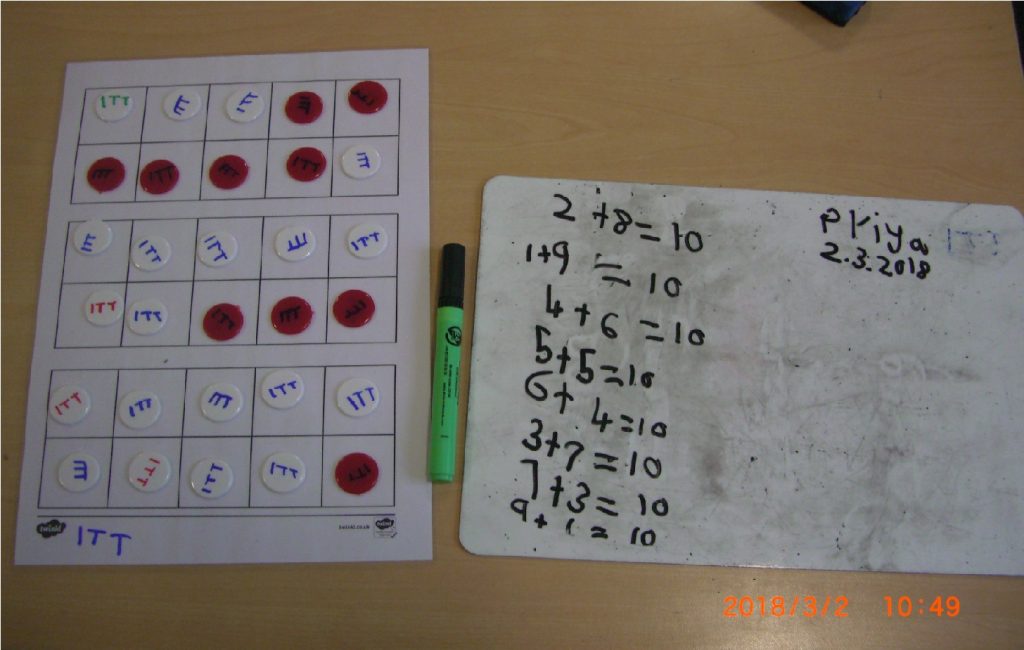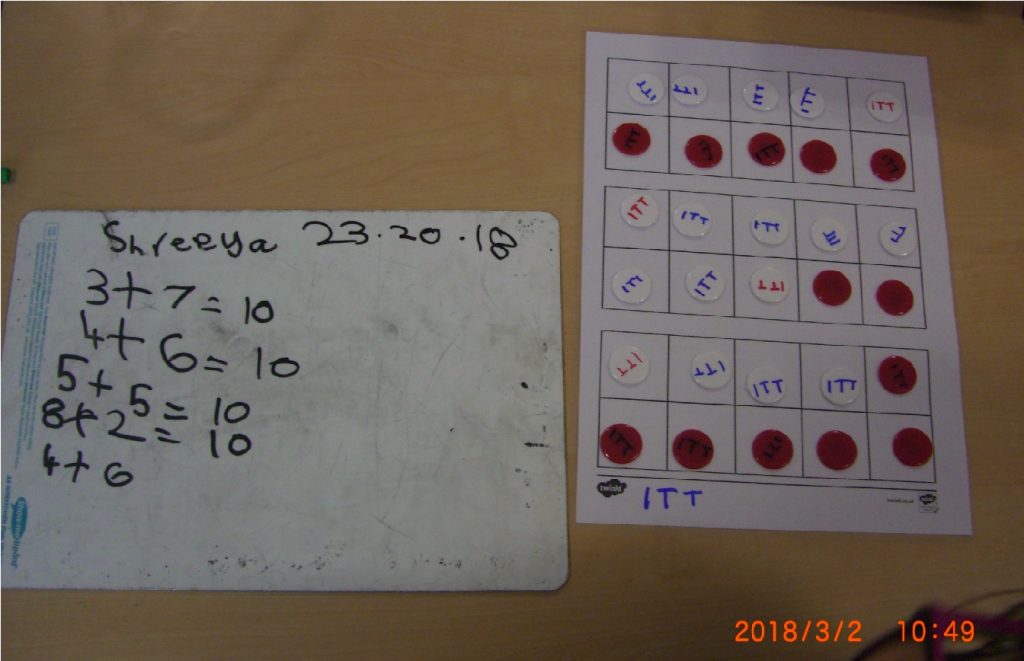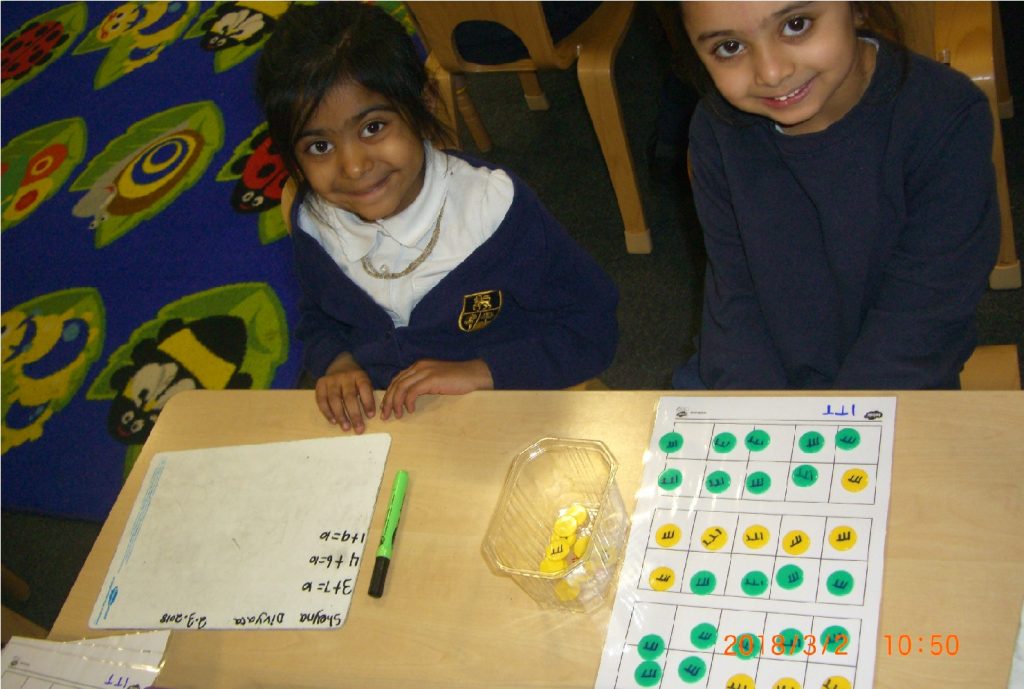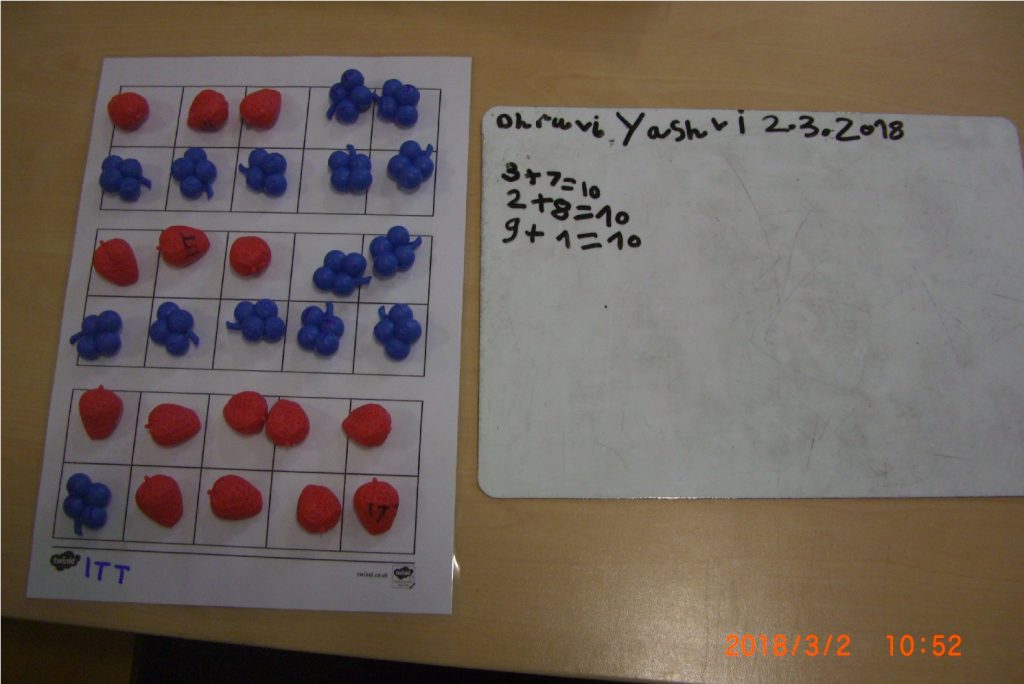 Making Fruit Salad in 1TT   –   March 2018
The parents sent in various types of fruits for the pupils to make fruit salads to support our instruction writing in English. All pupils were able to choose the fruits they wanted to use, cut fruits to different sizes using chopping boards and plastic knives, and then present their fruit salads in their own presentations.
"It was so fun to make the fruit salad in school today – I will share my fruit salad with my family." (Sheyna)
"I will remember to offer my fruit salad to God before I eat it, like I do at home." (Swarajsinh)
"It was nice to chop the fruit myself and now I can make my own fruit salad anytime." (Hritvi)
"I found it easier to write the instructions after I made the fruit salad first." (Niyati)