Welcome to Year 4 – Humble Hippos & Respectful Rhinos.
The team for the 2019-20 academic year are:
Humble Hippos
Miss Dela Cruz (Class Teacher)
Respectful Rhinos
Mrs Sandhu (Class Teacher)
Ms Nafiza (Year 4 LSA)
Ms Samidie (Year 4 LSA)
Dear Year 4,
We  hope you have had a fantastic week.
Please find the homework below for the half term:
Have a great break!
Miss Dela Cruz and Mrs Sandhu
Year-4-Maths Half term homework
Year 4 Science Week
Science Experiment – Can you undo water pollution?
In this experiment Year 4 children learned just how hard it is to undo water pollution.
We grabbed a bucket of clean water, some household trash, vegetable oil (to stand for toxic oil spills), tongs, and a strainer.
Children took turns adding rubbish to the water. After the water was filled with rubbish, we tried to remove all of the pollution using tongs and a strainer.
After 15 minutes of trying to remove all of the pollutants, we were left with a pile of trash and water that was still oily and dirty.
The conclusion ~ It is impossible to remove all of the pollutants from the water.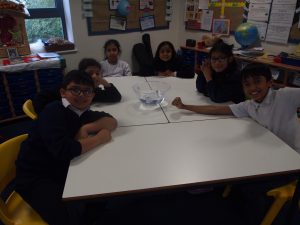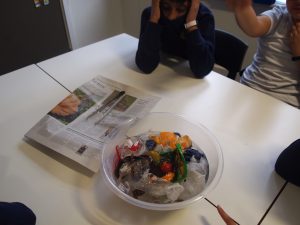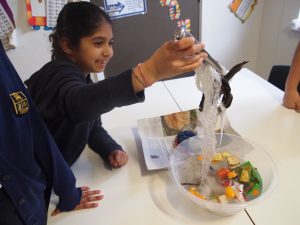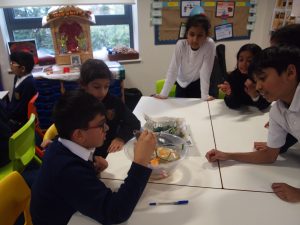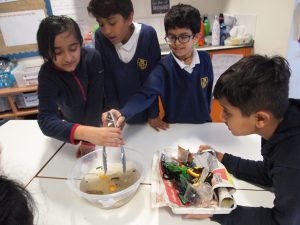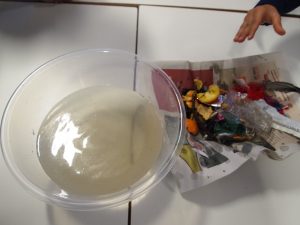 Lava Lamp Making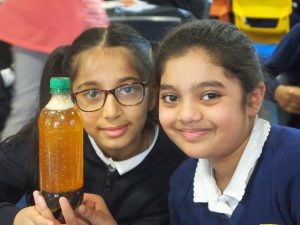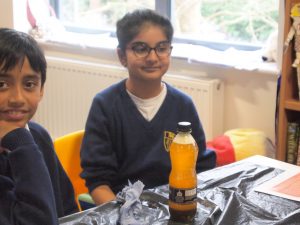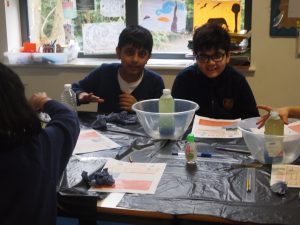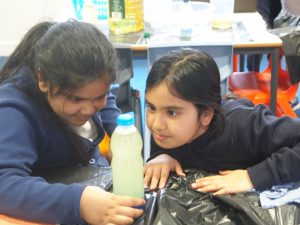 Money Sense Workshop – World Maths Day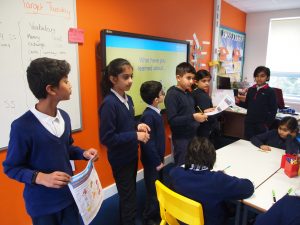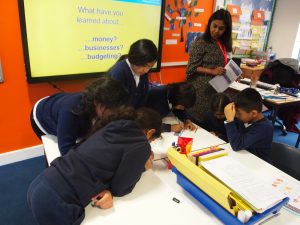 Year 4 participated in the Money sense workshop this week.Our task was to write a recount of:
What we did
What we used
What we learnt
How it relates to real life
Whether we would recommend this workshop for the future year 4's
Please click on the files below to read two wonderful recounts by Rishabh Haria (Year 4RR) and Mehek Gujar (Year4HH)
Year 4 Sanskrit Assembly
Year 4 performed a wonderful Sanskrit assembly on Tuesday 11th of February which showcased everything children have learnt in the past year about this ancient language. Children spoke confidently and eloquently in Sanskrit and used drama to demonstrate what they have learnt. Mrs Bhanderi worked very hard to put this Sanskrit assembly together and we are thankful to her for her dedication to our school! The Sanskrit assembly showcased children's progress in all three pillars of our school: academic excellence, character formation and spiritual insight.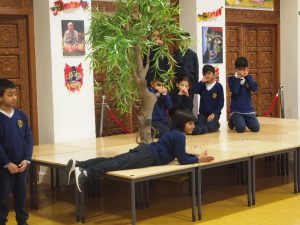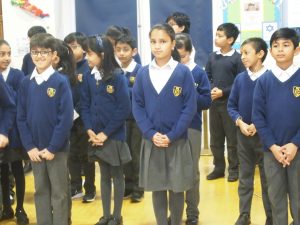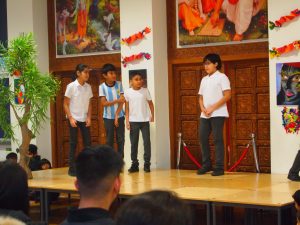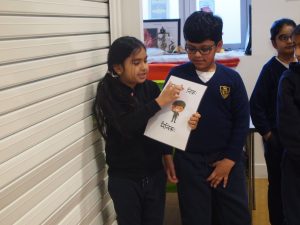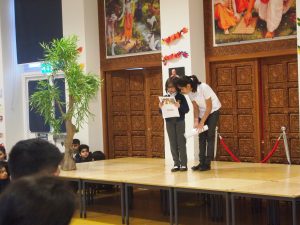 DT Workshop with Mr Vara – Seasonal Foods
On Friday 31st of January, Mr Vara (Shriya's Dad) visited Avanti House Primary to deliver a workshop to enhance our current DT topics on 'Seasonal Foods'. Mr Vara began the session by first of all exploring different types of fruit and vegetables which he brought to the classroom. Some were well-known, where others were unusual and new to the children. The children had discussions on where the fruit and vegetables come from, where they grow, what and how they can be used in cooking and the seasons that they grow in. After a lengthy discussion and an opportunity to touch a variety of fruit and vegetables, children went to the school's lovely cookery room to use fruit and vegetables to make a pasta bake and apple crumble. How delicious! Children discussed the different kitchen equipment which was necessary for this and how to prepare food. Every child had an opportunity to take part in preparing these two dishes. Year 4 also created their own menu in their DT books using different fruit and vegetables which were discussed today.
A big thank you to Mr Vara for delivering such an interactive, fun and meaningful session for Year 4 children.
Have a look at the scrumptious food we cooked below! 🙂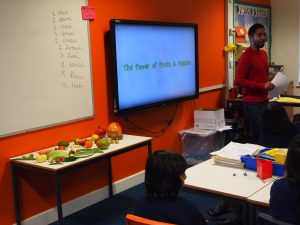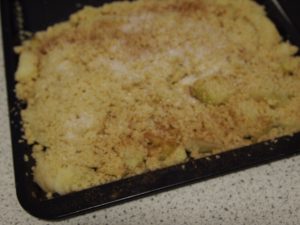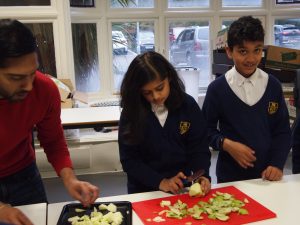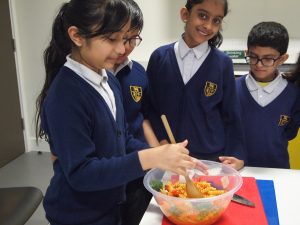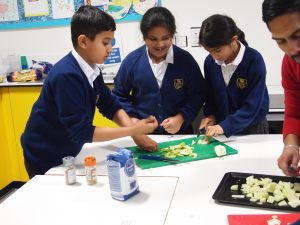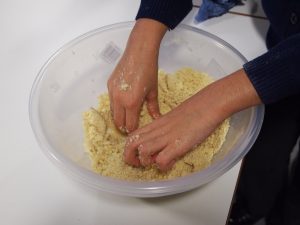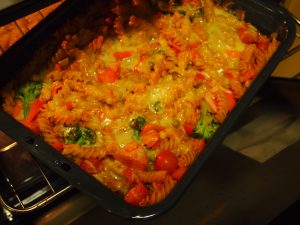 Remembrance Day Assembly
Year 4 children presented a beautiful, meaningful and engaging assembly for parents on Friday 15th of November 2019. Children spoke about this important day in the form of poetry, song and drama. Both parents and teachers were very impressed with how children spoke with confidence and maturity. In PSHE and English lessons, children learnt about Remembrance Day and its significance. Year 4 explored the meaning of war and peace and wrote beautiful poems based on these. Have a look at the pictures below!
Year 4 African Activities Workshop
As a part of Black History Month, Year 4 children attended an exciting workshop and explored different rhythms on African drums. Everybody participated and
contributed to the music, storytelling and took part in a purposeful recycling activity. It was a fun experience which was rounded off with a dance
performance at the end of the day. It was all about team work, listening skills and developing self- confidence!
Our pupils had a fun and informative day, a day where the sunshine of Africa shone in the school!
Roald Dahl Visit 2019
On Tuesday 16th July, we went to the Roald Dahl Museum, at the Bucks County Museum as part of our English topic, where we wrote our version of 'The Magic Finger'.
I enjoyed making the dream bottles as it was very cool and something new to me. In the dream bottle, we put feathers, tissue paper and glitter to describe our dream. Then we wrote about our dream on the label- it was amazing and super fun!
I would recommend this trip for the next year 4 as it is very interesting and interactive.
By Aum Vaghani 4RR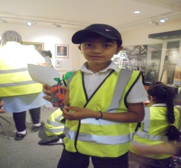 ---
AHPS Year 4 visit to the Henry Moore Exhibition 2019
Year 4 pupils had an exciting and interactive visit to the Henry Moore Museum.  Pupils experienced his iconic work in the beautiful Hertfordshire countryside.
Pupils were able to make links with their own art work and further enhanced their sketching skills.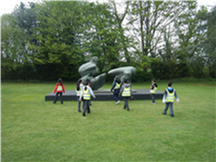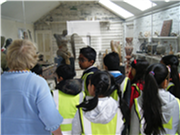 'On Friday 26th April, I really enjoyed seeing some sculptures because some drawings were really fascinating. Some sculptures were smooth, rough and steady. We also drew some sketches of these sculptures. From this visit, I learnt that drawings and sculptures don't have to be perfect. I would recommend is trip to nee next year 4 as they can see, feel and draw the sculptures they see in the pictures that are shown to us.'
Dheer Shah, 4RR
---
Music Lesson March 2018
By Meer Patel 4HH
---
African Drums March 2018