Welcome to Year 4 – Humble Hippos & Respectful Rhinos.
The team for the 2019-20 academic year are:
Humble Hippos
Ms Sharda / Mrs Joshi (Class Teachers)
Respectful Rhinos
Mrs Sandhu (Class Teacher)
Mrs Jani (Year 4 LSA)
Dear Parents/Carers,
Please see the Year 4 homework below.
Have a lovely weekend.
Year 4 team
Mrs Sandhu, Mrs Sharda & Mrs Joshi
Homework Archive
Dear Parents/carers,
Please see the curriculum overviews below. Kindly have a look a the attached documents and discuss with your children what they have covered as they progress through the terms. At times, we may link subjects together for enhanced learning opportunities. Encourage your children to share what they have learnt from the overviews to enable meaningful and engaging conversations about their learning.
Year 4  Autumn 1 Curriculum Overview 2019-2020
Year 4 Autumn 2 Curriculum Overview 2019-2020
Remembrance Day Assembly
Year 4 children presented a beautiful, meaningful and engaging assembly for parents on Friday 15th of November 2019. Children spoke about this important day in the form of poetry, song and drama. Both parents and teachers were very impressed with how children spoke with confidence and maturity. In PSHE and English lessons, children learnt about Remembrance Day and its significance. Year 4 explored the meaning of war and peace and wrote beautiful poems based on these. Have a look at the pictures below!
Year 4 African Activities Workshop
As a part of Black History Month, Year 4 children attended an exciting workshop and explored different rhythms on African drums. Everybody participated and
contributed to the music, storytelling and took part in a purposeful recycling activity. It was a fun experience which was rounded off with a dance
performance at the end of the day. It was all about team work, listening skills and developing self- confidence!
Our pupils had a fun and informative day, a day where the sunshine of Africa shone in the school!
Roald Dahl Visit 2019
On Tuesday 16th July, we went to the Roald Dahl Museum, at the Bucks County Museum as part of our English topic, where we wrote our version of 'The Magic Finger'.
I enjoyed making the dream bottles as it was very cool and something new to me. In the dream bottle, we put feathers, tissue paper and glitter to describe our dream. Then we wrote about our dream on the label- it was amazing and super fun!
I would recommend this trip for the next year 4 as it is very interesting and interactive.
By Aum Vaghani 4RR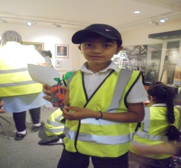 ---
AHPS Year 4 visit to the Henry Moore Exhibition 2019
Year 4 pupils had an exciting and interactive visit to the Henry Moore Museum.  Pupils experienced his iconic work in the beautiful Hertfordshire countryside.
Pupils were able to make links with their own art work and further enhanced their sketching skills.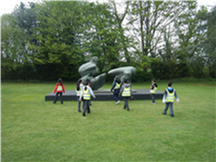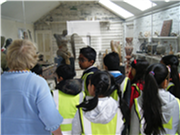 'On Friday 26th April, I really enjoyed seeing some sculptures because some drawings were really fascinating. Some sculptures were smooth, rough and steady. We also drew some sketches of these sculptures. From this visit, I learnt that drawings and sculptures don't have to be perfect. I would recommend is trip to nee next year 4 as they can see, feel and draw the sculptures they see in the pictures that are shown to us.'
Dheer Shah, 4RR
---
Music Lesson March 2018
By Meer Patel 4HH
---
African Drums March 2018