Deity Worship: A very Special Moment with Krishna!
On Monday 30th April 2018, an historic event took place at Avanti House Primary School. For the first time ever, two pupils from Year 5 took part in offering morning worship (Deity worship) to the main shrine Deities at our school.
Srila Prabhupada established the importance of Deity Worship whilst he was present in this world and he taught his disciples how to conduct the Deities according to bona fide scriptures.
Deity worship means caring for the Lord as a person. By serving the Deity we understand ourselves to be His servant, with practical service to offer. Lord Krishna is a person, and when we care for Him He reciprocates with us by purifying our heart and bringing us closer in our relationship with Him.
Srila Prabhupada explains that Deity worship is authorised by God while idol worship is not. He uses the analogy of the mailbox. If you put mail in a U.S. Postal Service mailbox it will go to the destination. If you make your own box, and paint it red and blue and write 'U.S. Mail" on it, the letter won't go anywhere, because the box is not authorised by the postal service. Similarly the Lord has explained how to worship Him in the Deity form.
Pictures of Diya and Krisha from Monday 14th May 2018: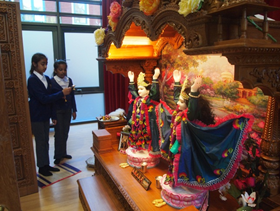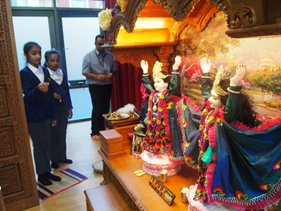 We hope to give two pupils the opportunity to partake in worshipping the main shrine Deities every Monday for the rest of the academic year.
Hare Krishna