Sound the trumpets and ring the bells; Avanti House Primary pupils celebrate the royal wedding in style!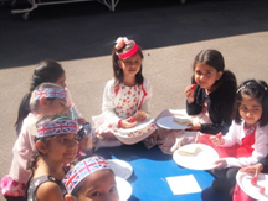 On Thursday 17th May, Avanti House Reception and Year 1 pupils hosted a Royal wedding themed street party attended by neighbours of our school. Reception pupils prepared for the event by designing decorations, menus and invitations, then arrived dressed to impress on the morning of the party.
Year 1 used the theme of the Royal Wedding to learn more about British wedding traditions as well as letter writing. The pupils wrote formal letters to Prince Harry and Ms Markle, introducing themselves and wishing the royal couple all the best for their special day. We hope we will get a reply one day!!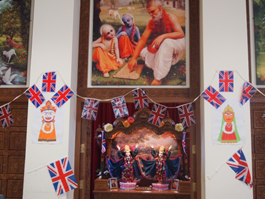 As part of our learning we discussed some of the British Values, in particular mutual respect and tolerance of others' faiths and beliefs. A key aspect of this was exploring similarities and differences between traditional British weddings and Hindu weddings that pupils have attended.
Ms Pandya welcomed our guests on arrival before Reception pupils performed an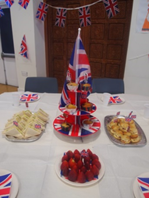 adorable rendition of 'What a Wonderful World.' Year 1 pupils then performed an original poem about the marriage of Prince Harry to Meghan Markle. Some of our guests were from a neighbouring care home and they absolutely loved seeing our pupils perform!
Guests, staff and pupils then enjoyed a morning tea of delicious scones with jam and clotted cream, cucumber and cheese sandwiches, and strawberries with cream.
Thank you to all the guests, staff, parent volunteers and pupils that made this special event such a wonderful occasion.