Welcome to Year 1 – Doves and Parrots
Links between home and school, alongside a positive working relationship between staff and families, can make a hugely positive impact on your child's progress.
Please work with us to give your child the very best start in life
The two Year 1 teachers for the 2020-2021 academic year are:
Mrs Lorgat (Doves)
Mrs Patel (Parrots)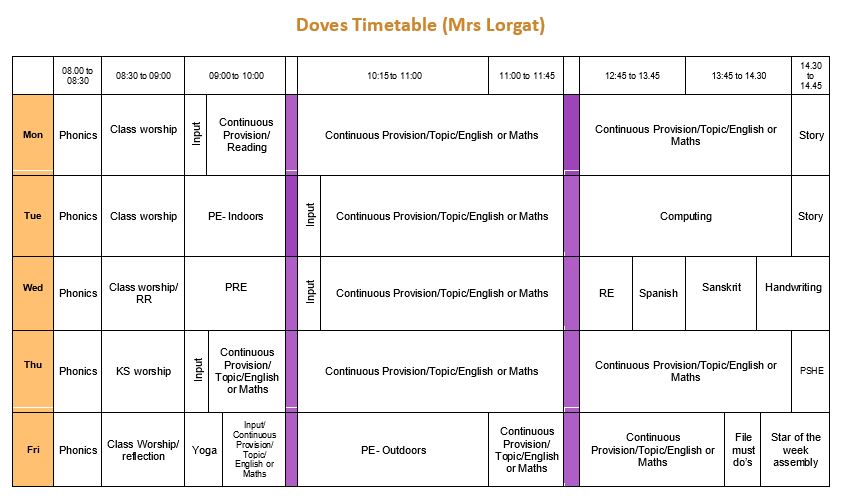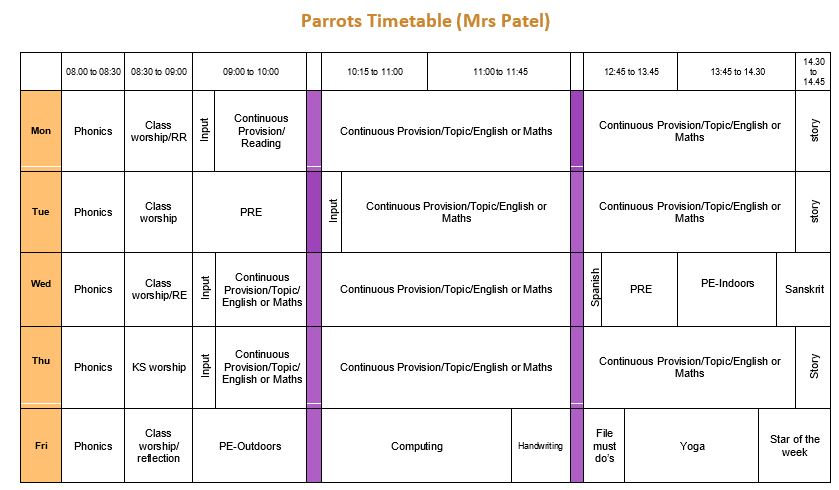 At Krishna Avanti Primary School we expect the children to come to school and work hard. As long as they do that they should be able to go home and do a little homework each week (up to one hour) and enjoy being a child – playing and learning other things through play! Some children do of course really enjoy writing and doing mathematics and other 'academic' things and in these instances, they may wish to spend hours and hours studying and doing homework.
If your child has worked hard at school, any homework given that takes more than one hour may be left (if you so wish). In addition to the homework, children will have spellings to learn, books to read and times-tables to learn.
Homework will be given as Flipped Learning. Teachers will set Flipped Learning tasks, as required, on Google Classroom, rather than on a set day of the week. Flipped Learning allows for children to investigate a specific objective prior to the lesson in school.
Doves Class code: c3u2rlz
Parrots Class code: vhu67um
In Year 1 there is a list of recommended words taken from the National Curriculum which they should be confident in spelling by the end of the year. Please help you child learn these words. Once children have learnt spelling them, they can write sentences with them.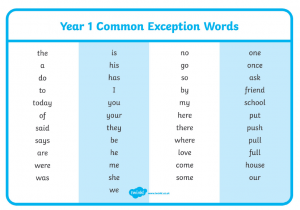 Spellings will be given every
Friday
to learn at home.
All spellings will be uploaded to Google Classroom. Please follow the link below. Your child will need their @kapsl.org email address to login to their account.
Doves Class code:
Parrots Class code: vhu67um
Reading books will be changed once a week. Your child will bring two books to read over the week. Please ensure that your child's reading record is signed in order for their books to be changed.  Children will usually be heard read by a member of staff. Reading books will still need to be in school everyday.
Click on the links below to view target statements and objectives:
Physical education is a statutory subject in the National Curriculum and children well enough to be at school are well enough to take part in physical education.
Requests for children to be excused from physical education will never be given. Physical education, like all subjects, will be appropriately adapted for the needs of all children, regardless of permanent or temporary  abilities and injuries. 
All children must change for physical education and remove jewellery for the lessons. If the child is unable to remove jewellery themselves, do not wear it on physical education days.
Physical Education and Yoga for Doves 
Tuesday: Indoor physical education kit (with a tracksuit over to keep warm through the day).
Friday: Outdoor physical education kit (and yoga)
Physical Education and Yoga for Parrots
Wednesday: Indoor physical education kit (with a tracksuit over to keep warm through the day).
Friday: Outdoor physical education kit (and yoga)
Planned and completed visits will be detailed here.
2021/2022
Tuesday 21st September-Toys from the Past workshop (£3.50 per child).
Thursday 9th September-Dance workshop (£4.10 per child).
Wednesday 8th December- Christingle Service/St Denys Church (free).
Monday 13th December-Geography field trip-Local area (free).
Wb 28th February-Scarf Life Education Visit (£4.29 per child).
Thursday 3rd March-Well-being Adventure workshop (£4.00 per child).
Monday  21st February-Den Building (£7.39 per child).
Wednesday 23rd March-Maths workshop-Brain wave Education (£1.15 per child).
Friday 25th March-Chapel visit (free).
Parrots class-Monday 28th March-St Deny's Church Easter Service (free)/Doves class-Monday 4th April-St Deny's Church Easter Service (free).
Monday 16th April-Beaumanor Hall, Victorian School Day (£15.17).
Tuesday 21st June-Summer 2-Twycross zoo (£10.00).
Thursday 30th June Drumming workshop (£1.77)
Total to date: £51.27  per child
We hope the following links will be useful  to you and your child:
Due to the National Phonic screening test your child will under take in June. It is important that your child knows all the sounds and can read
real
and
nonsense
words up to phase 5. Please talk to your class teacher for further information or help.
Below is a link to make your own phonics screening tests in less than a minute.
It is free to register with an email.
Choose which graphemes your child is struggling on
Print read and have fun!
http://www.oxfordphonicschecksupport.co.uk/login
To help your child at home have a go at using the following websites
Mr Thorne does Phonics. Mr Thorne has many videos to teach children about new sounds in a fun way.
https://www.youtube.com/results?search_query=mr+thornes+phonics
Jolly phonics on you tube is a great website to learn new sounds from phase 2 to 5 with songs and actions.
https://www.youtube.com/results?search_query=jolly+phonics+phase+3
Phonics play is a great website for children to play games and learn at the same time. Some games you have to pay for, so use the free ones available!
Twinkle is a great website for you to download resources for different sounds especially reading nonsense words.
The following website takes you through all the sounds helping you to pronounce them correctly.
We will be learning how to keep safe when using the  internet at home and at school. Click on the link below to reinforce this at home with your child by watching the video clips of Kara and the smart crew.
Phase 2 teaching blending
This is a video clip from the DfES Letters and Sounds Programme (2007) used to teach children to read in many schools. This clip shows children learning how to blend sounds to make CVC words. Sound buttons are shown (dots under each phoneme) to help children discriminate between the individual sounds.
Alphablocks 

Play along with the Alphablocks and have fun with the letters of the alphabet.
Phonic songs-listen to the songs and learn your sounds