Please find below our most recent Ofsted reports, and relevant information from the Department for Education Performance Tables.

Ofsted School Inspection Reports
Section 48 Inspection Reports
If a school has a religious character, as determined by the Secretary of State for Education and Skills under section 69(3) of the School Standards and Framework Act 1998, denominational religious education and the content of collective worship are inspected under section 48 of the Education Act 2005.
As a Hindu Faith school, Krishna Avanti Primary School therefore is inspected with regards its religious character in addition to Ofsted Inspections.
The lastSection 48 Inspection of Krishna Avanti Primary School was conducted on 4th July, 2017. Please read the report below.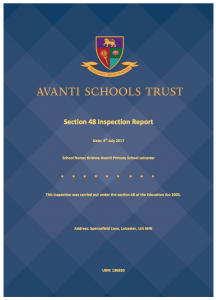 S48 Report Krishna Avanti Primary School Leicester
In a nutshell this is an amazing school with equally amazing staff, we feel very grateful to be part of the school.
All the staff are supportive and welcoming; the Principal is there to greet the students every morning, administrative staff, catering staff, teachers and assistants, site manager.. I could go on.
Our daughter is currently at this school and she is flourishing. She absolutely loves it here, as do we. The quality and depth of teaching is fantastic as are the teachers who use a variety of methods to teach the children.
We would like to show our appreciation for all the hard work and dedication you have given my child over the last two years. We are very proud and happy with the progress made.