The school community and outreach work our young people do is a continual delight and inspiration. Last Saturday, students from all year groups represented Avanti Fields School to support Tesco with their in-store donation scheme in partnership with The Trussell Trust and Food Share charities, which aim to support local community foodbanks. We are extremely proud of the efforts, politeness and dedication to the cause shown by all students. They demonstrated the Avanti Way and showed the very best versions of themselves. Thank you to Dipak Patel and Sarah Kurth for your support and organisation of this event.
As we are drawing near to Christmas, please put the following dates into your calendar. Friday 10th December the school will be organising a Christmas Jumper day in aid of Save the Children, and on Friday 17th December we are organising a Festive Friday in aid of Great Ormond Street Hospital. Please read below for further details.
Contacting the school
Should parents or carers need to contact the school, we request that you complete the online form that can be found on our website. You will receive a response from the school within 2 working days.
Absences
To report an absence to the school, parents should contact us by 8:30am.
Email: [email protected]
Phone: 0116 326 61813 (Option 1 to leave a voicemail)
Please remember to state your child's full name, tutor group and reason for absence. If your child is unwell, please could you give a brief description of the symptoms.
Flu vaccination
Sign up for the flu vaccination via the website https://www.leicsandrutlandimms.co.uk
Use the school code: LE143679
When completing the form, please ensure that the email address matches the one registered with the school and that there are no spaces or punctuation before or after the email address and school code.
Vaccinations will take place in school on Wednesday 8 December.
10/12/21 – Christmas Jumper Day – Save the Children
Staff and students will be asked to donate £1 to wear a festive jumper to school. Students will need to wear their correct school skirt or trousers and shoes on the day.
17/12/21 – Festive Friday – Great Ormond Street Hospital
Staff and students will be asked to donate £1 to wear something sparkly to school in addition to their school uniform.
17/12/21 – School finishes at 12:50pm
4/1/22 – Spring term begins for all students
Advance notice of proposed change to calendar
Year 9 Options Evening will move from Thursday 13th January to Tuesday 11th January to allow Miss Bardsley to be in attendance and present to parents.
Key dates for the Spring term will be published before the end of the term.
The year 9/10 netball team faced some tough competition in their last fixtures, which saw us win one game and lose two. This was an incredible effort from the team, who have only played together this year. A shout out to our player of the match, Anushka W for scoring most of our goals. The team are looking forward to participating in more netball fixtures in the future.
The Primary phase of Avanti Fields School is opening in September 2022. Should you know of any parents with children starting reception next year, please encourage them to visit our website or arrange for a school visit.
The school is also accepting expressions of interest for a nursery class to open in September 2022. Please contact the school for further details.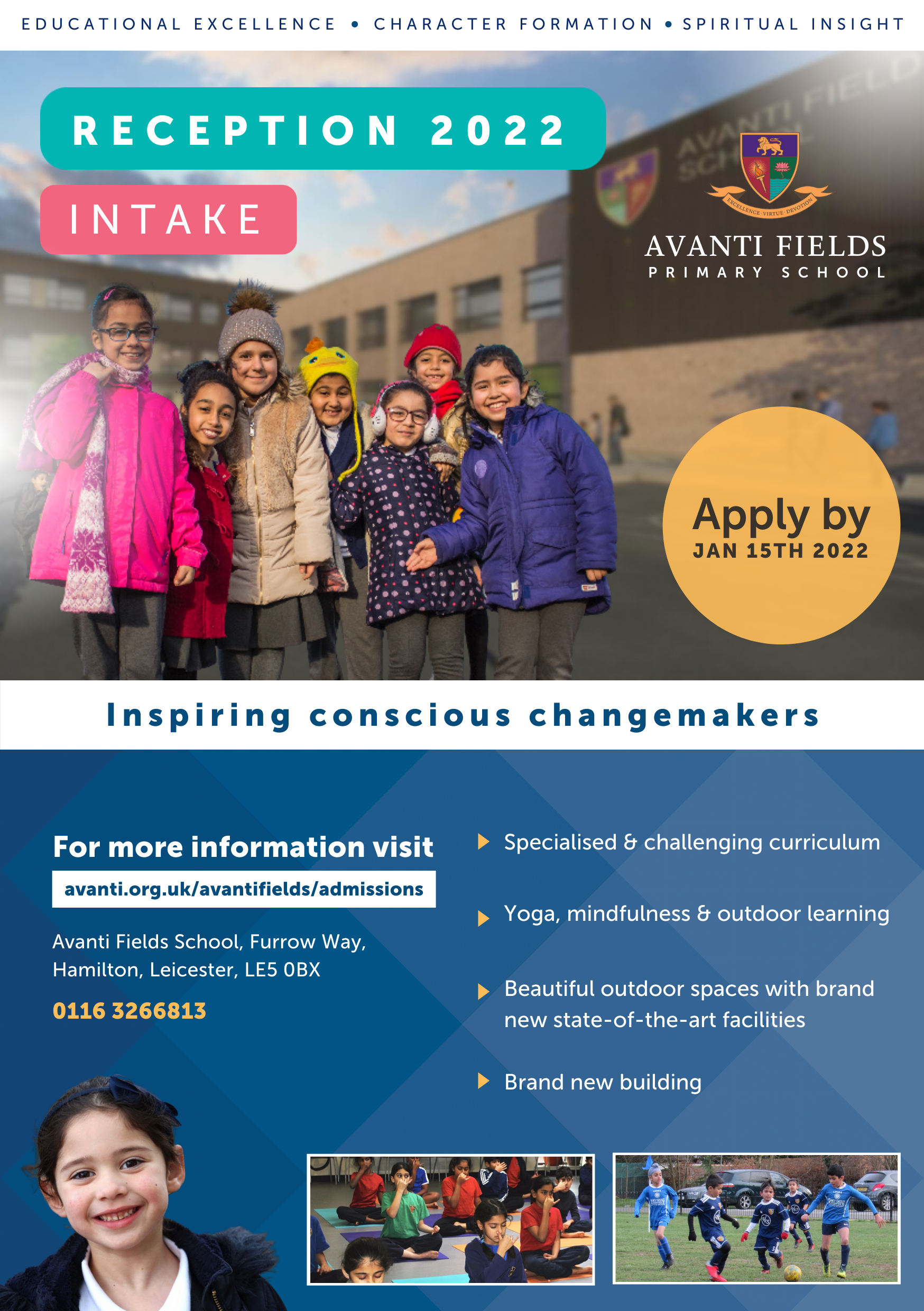 Yours sincerely
Miss Bardsley
Acting Principal