We are now at the end of the first half term and it has been an extremely busy seven weeks for the students. Looking back and reflecting, the team here has done amazingly well to get into a brand-new building and make the first weeks a very positive experience for the children. The new Year 7 children coming in and starting secondary school can be quite a daunting time; they came in and were very quickly settled and positive about the start of secondary school. 
For the Year 8 to 10s, they too have now been able to enjoy a purpose-built building with great facilities for their learning. There were teething problems, such as lunches, but these have been worked on and fixed. We have had children represent the school in football and netball. Children have also helped out at Open Events, and they have done so with great maturity – they are a real asset to the school and you should be proud of them – I certainly am. 
After half term students will need to wear uniform every day. We have trialled wearing physical education kit for the full day but it has not quite worked and for hygiene reasons as well as changes in weather, we now need to revert to the children changing. Students need to bring their PE kit and trainers in a bag to change into at school for both PE and yoga lessons.
As a reminder, everything must be navy blue and hoodies are not permitted. Base layers/skins are allowed  but these must be black or navy blue; Jackets nor coats to be worn in PE. Phones and valuables are student's own responsibility and we would encourage them not to bring them on a PE day (lockers can be used to store items securely). Staff will not be responsible for any items left in the changing rooms.
On the subject of physical education, after school clubs next term will start on Monday 8th November. The form will be live and ready for you to submit your preferences and we will inform you where places have been given or waiting lists, by the end of the first week back.
It's been brought to our attention that the small padlocks for lockers at school are not secure. If your child has a small padlock, please replace it with a larger padlock.
Restorative Practice – Building Relationships, Improving Behaviour and Creating Stronger Communities
The words we use and the conversations we have are the keys to making an alternative future a genuine possibility.
Mark Finnis
Continuing read Mark Finnis's book on restorative practice and developing a restorative mindset, I believe that it is important when dealing with issues or matters that arise, that we approach these with positively. Sometimes the way people see a problem is the problem. When dealing with a concern, we should be committed to focussing on the possibilities rather than the problems, so that we reach the best possible outcomes for the children.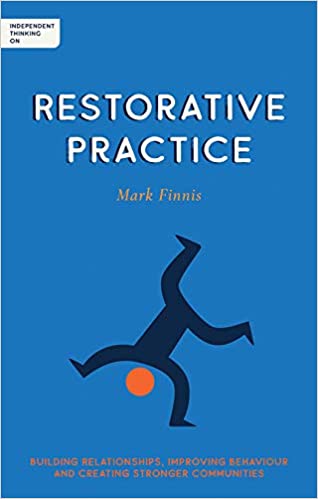 School Stakeholder Committee Parent Member Vacancies
I am pleased to report that the count has taken place for the two parent vacancies for the School Stakeholder Committee. The ballot took place and the two newly elected members of the School Stakeholder Committee, to represent the parents, are:
Nehal Kotecha
Mayur Patel
After the two week half-term break my title here will change to Co-Principal. As you should already be aware, Miss Bardsley will be the Co-Principal from Monday to Wednesday and myself on Thursdays and Fridays. I have worked with Miss Bardsley quite a lot over recent years and I am very confident that the half term ahead will be a positive one for your children, as it should be. 
A reminder that we return on Monday, 1st November; please do not forget that Thursday and Friday of that week (4th and 5th of November), school will be closed for Diwali and Govardhan  Puja. 
Thank you very much for your continued support.
Have a great weekend.
Mr Kite
Interim Principal