I would like to start this week's bulletin on a celebratory note. I am pleased to confirm that Ms Nisha Kholia has been appointed as the Head of School (Secondary). Ms Kholia has been at Avanti Fields since its opening. Her dedication to the students of Avanti Fields is evident in every action she takes, and she will continue to demonstrate her strong leadership within this new role.  
This week we hosted the virtual Year 9 Options Evening. The staff at Avanti Fields have done a fantastic job in collating key information about this process and it was a shame that we couldn't invite parents onsite to have face-to-face discussions. We have shared with Year 9 parents a form to collate frequently asked questions and will be meeting with each student either individually or in small groups to support them in making their subject choices. Thank you to Mr Kachhela and Ms Kholia for jointly hosting the evening.  
This week has seen the launch of one phase of our pupil premium tuition programme, organised by Mrs Kurth and Mr Tailby. The school is passionate about supporting the learning and development of all students and the tuition program is one way in which the school is using the catch-up funding provided by the government. The Brilliant club is part of a national effort to make sure pupils do not fall behind at school because of how Covid-19 has impacted their studies. The tuition is focussed on English and students will work in small groups with a tutor for 12 weeks. The second phase of our pupil premium tuition programme will begin on 26th January via Talent Ed.  
Enjoy your weekend together and stay safe. 
Vanessa.  
The Primary phase of Avanti Fields School is opening in September 2022.  Please note, the deadline to apply for a place is 15th January 2022.
The school is also accepting expressions of interest for a nursery class to open in September 2022. Please contact the school for further details.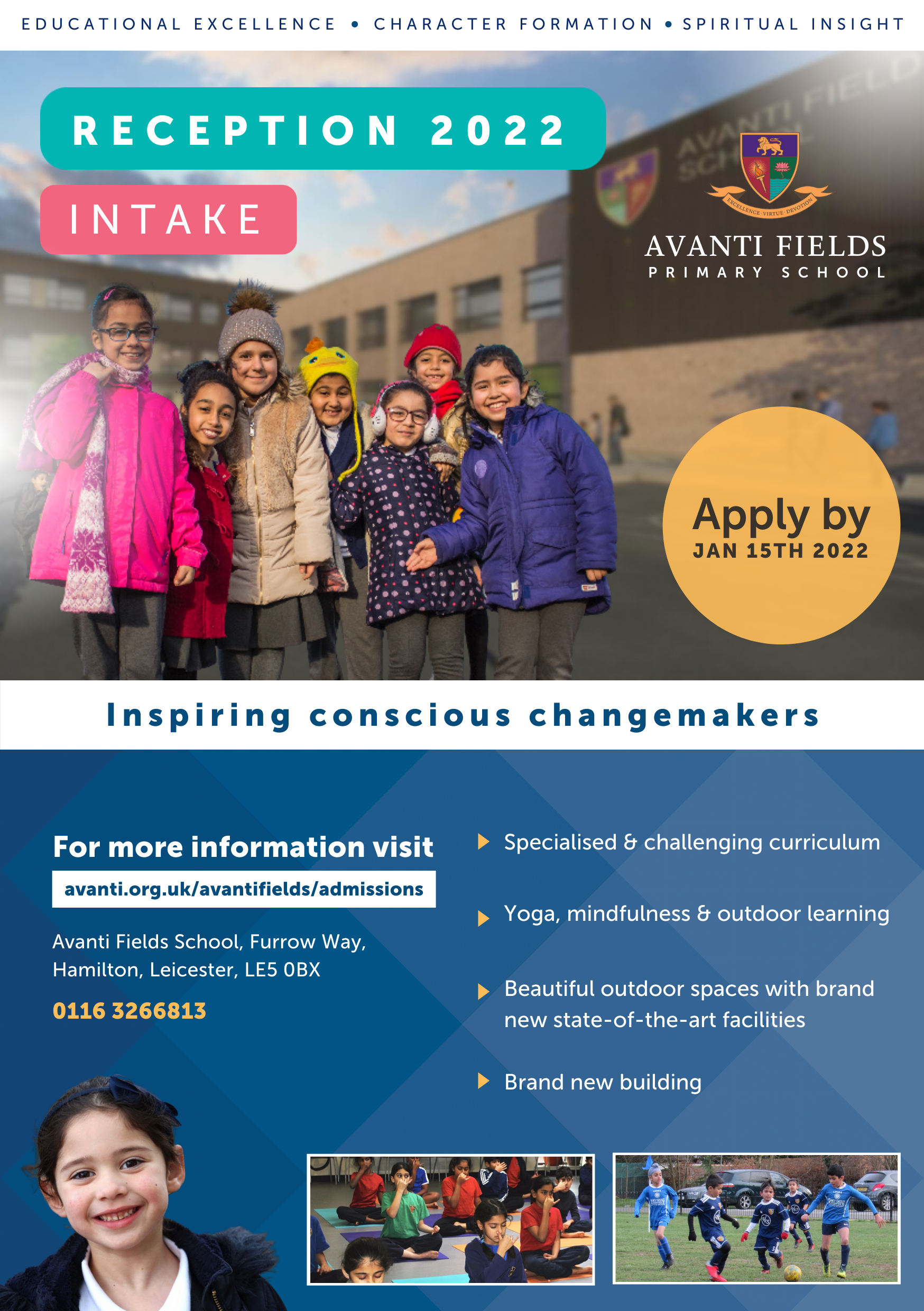 Cricket – A huge congratulations to the boys year 8 cricket team who won both of their games last night and are now through to the finals on Feb 9th. Player of the first match goes to Dhiaan Naresh for his all-round performance and player of the second match goes to Krish Kala who displayed a consistent performance and showcased his bowling talents. A huge thank you to Mr Clampin for giving up his time to lead and organise the team to victory. 
 Badminton – On Wednesday night we held the badminton trials and we had an amazing turnout of 60 students. Students that are chosen will have the opportunity to attend Badminton Club for 6 weeks and then be selected for fixtures. If students are not chosen for this block, they will have the opportunity to attend for the second block of 5 weeks starting on the 8th March. Students will be informed which block they got into via email home to parents. 
Absences
To report an absence to the school, parents should contact us by 8:30am.
Email: [email protected]
Phone: 0116 326 6813 (Option 1 to leave a voicemail)
Please remember to state your child's full name, tutor group and reason for absence. If your child is unwell, please could you give a brief description of the symptoms.
Face Masks
Please can parents ensure that children are carrying 2 face masks with them at all times.
25

th

, 27

th

 and 28

th

January 2022 –

NHS staff will be onsite

to administer nasal flu vaccines to

those children whose parents have given consent.

 
3rd February 2022 –

NHS staff will be on site

to administer the second dose of the covid vaccine to children who have had the first dose.

 
Yours sincerely
Miss Bardsley
Acting Principal