As we come to the end of another fruitful week at Avanti Fields, we have an opportunity to offer gratitude to all those who are working to make the world a better place.  
Thank you to Ms Vershika Kansara and her work with 8 Water. Through a doughnut sale at lunchtime last week, students have raised £247 which will go towards the supporting those effected by the Ukranian crisis. Our next step is to use the money to purchase items for the Ukranian centre in Leicester to show our support. 
Parents and staff have received details about the charity appeal from Avanti Schools Trust to raise £10,000 towards food and meal distribution to displaced families in Ukraine. The PTFA at Avanti Fields School is proud to support this great cause and has donated £101 towards the appeal fund. We would like to encourage you all to support the appeal in any way you can – whether that is through generous donations of any amount and promoting the appeal to your family and friends.  
https://justgiving.com/campaign/unitedforukraine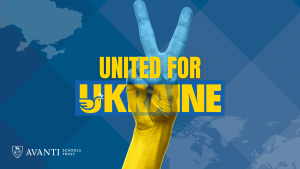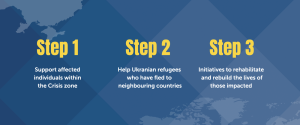 I would like to welcome the following new members of staff to our school community. Mrs Sonal Rajpara has joined us as a Teaching Assistant and Dr Pooja Bagree is our school medical officer. In addition to this, the school has appointed two honorarium posts to in English and Mathematics to support the further enhance our curriculum for the remainder of the academic year. Mrs Poonam Bali will support in bolstering the KS3 English curriculum and Mrs Sejal Estibeiro will take a lead in further developing the KS4 Mathematics curriculum.  
Last Friday the school celebrated the birthday anniversary of Sri Chaitanya. Students had an immersive experience focused on kirtan and the abhishek (ceremonial bathing) of Sri Chaitanya's deity. This year's theme leading up to the festival was to focus on three principle teachings of Sri Chaitanya:
1) Jiva doya – care and compassion for all living beings
2) Nama ruci – having affection for the holy names of Krishna, God
3) Vaishnava seva – serving others with love and respect
Here is a picture of the deity being bathed.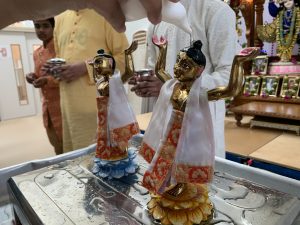 Students also heard the day was significant for all Hindus with the celebration of Holi – the festival of colours and protection. We also paused to recognise that this was also a sacred day for other faiths, such as:
Holla Mahola in Sikhism
The feast of Esther in Judaism
St Patrick's day for Catholics
Naw Ruz, the Baha'i New Year
The Night of Forgiveness in Islam
Please see the below message from Govindas, our caterers. 
 
Please be advised that from Monday 18th April 2022 there will be a price increase to the cost of school meals. The current price is £2.45 for the main meal and £2.10 for a light meal. This will increase to £2.70 for (Main Meal) and £2.35 for (Light Meal). 
 
This is due to the continued pressure on the cost of wholesale food and national salaries, we cannot avoid this price increase any longer. The impact of this increase will be an increase by circa. £15/term per pupil. 
 
It should be noted that a school meal at Govinda's still provides excellent value for money. We will continue to offer an exciting and varied range of meals, snacks, and drinks which are both healthy and nutritious. All of our menus are developed in line with the nutritional standards set by the Schools Food Trust and the Government's Food Policy in Schools. 
 
For our students in receipt of Free School Meals, the increase will be applied to the daily allowance. This will ensure they continue to have access to the main meal and dessert menu. 
 
We ask for your understanding of these price increases and fully appreciate that times are tough. Govinda's catering remains committed to ensuring that your child's school meal is value for money, healthy, well-balanced, and nutritious. 
 
Yours sincerely 
Mike Jones 
 
Managing Director 
Govindas Ltd 
The school gates open each afternoon at 3.15pm. Parents are not permitted to be on site before this time without a valid reason. If you arrive at the gates before this time, please ensure that visitors and parents collecting their children early are able to access the site and do not tailgate them into the car park. You will be asked to leave the car park if this is found to be the case. 
Please do not park in the disabled parking bays unless you have a blue badge on display. You will be asked to move your vehicle if you do not have this. 
We are currently recruiting for the following vacancy:
Lunchtime Supervisor
If you or any of your friends or family would be interested in applying, please visit our careers website – https://avanti.org.uk/careers/
Vaccinations  – 31st March 2022 – Year 9    3-in-1 teenage booster and Men ACWY vaccination
For your child to receive their vaccination in school:
2. Select COVID-19 by clicking the "Click here" button next to it.
3. Enter the code for your school. For Avanti Fields School it is LE143679
4. Enter your child's details 5. Press 'SUBMIT' Or you can scan this QR code
Yours sincerely
Miss Bardsley
Acting Principal