This week has seen the school provide some fantastic opportunities for our students. The science department has run a series of activities to celebrate Bristish Science Week, the PRE team have organised the Gaura Purnima festival celebrations today and we have newly appointed house captains as part of our House System.  
Can you please join me in congratulating the following students who have become the house captains for their year groups: 
Year 7: Shanaya K, Rahil R (Aether), Anika D, Abinav V (Air), Amrit R, Hemang D (Cosmos), Mansi N, Tanveer W (Earth), Nidhi P, Shivam K (Fire) and Dhriti L, Shivam K (Water) 
Year 8: Rianna D, Kayan M (Aether), Akshar R, Diljot Kaur M (Air), Diya K P, Pranav S (Cosmos), Neha L, Jiya K (Earth), Shardha K, Aum M (Fire), Parrthana S, Jush B (Water) 
Year 9: Vrishti M, Stella O (Aether), Pawandeep S, Harsh P (Air), Rhea O, Akudzwa Z (Cosmos), Tanveer S, Veda P (Earth), Upayan D, Aisha S (Fire), Shay R, Jiya V (Water) 
Year 10: Harshi P, Krisha S (Air), Anay P, Neha N (Earth), Salonee B, Khushi C (Fire), Kiya P, Asha P (Water) 
I hope you have an enjoyable weekend and continue to remain safe.  
Miss Bardsley. 
British Science Week 2022
What a fun week of curiosity, discovery and inspiration to celebrate British Science Week! We kick started the week with an assembly to launch all the fantastic opportunities available to students in all year groups. This year's theme was growth in science. Growth in science can be seen in many ways and our students had experience of exploring growth in science and also growth and development in their character. Below are all the exciting opportunities students have engaged in this week:
National poster competition – Every year British Science Week launch a poster competition with some great prizes.
Lab coat poster competition – Baylab have also released a lab coat competition to design a lab coat based on food and food waste.
University of Oxford presentation – this was a fascinating talk giving students a flavour of what to expect when attending the University of Oxford, including the academic challenges to get to university and the benefits of being a student at University of Oxford. Did you know The University of Oxford has 127 libraries for students to access? The importance of super-curricular activities was discussed with students: what are you doing within your subject to enhance opportunities for the future and the importance of exploring what your passion is within a subject.
Energy Quest – Year 8 students had the opportunity to explore engineering and the vast range of careers that stem from engineering in the workshop. Students also worked in teams to create their own electromagnet and fruit cells.
Marble challenge – Some students in Year 8 worked in teams to design and make the longest marble run. There were some brilliant marble runs at the end of the workshop!
Lab Escape room – Throughout the week, students could sign up as a team to enter the room, solve the clues and complete activities that will lead them to the key to escape. The lab escape room has proven to be so popular that we have extended it for another week to allow more students to get involved. It has also been opened up to staff – can they beat the students' time to escape from the lab?
"The escape room was a fun way to test my problem-solving skills and try to escape with the silver key the fastest." – Sienna Barai
"It was an exciting experience going against the clock and I loved the feeling of satisfaction after solving the code!" – Avni Mistry
University of Oxford Material Science day: What a wonderful experience for our year 10 students, spending a day at the department of Material Science at the University of Oxford. They had an action-packed day, including talks about the various opportunities that are on offer, hands on practicals using state of the art equipment, tours around St Anne's College, discussions about physics in toys, careers talks and Q & A with current post and undergraduates about University life.
Our students were courteous and inquisitive and they were able to articulate confidently their ideas in presentations to the other schools and hosts. They were a credit to our school and had an enriching experience, which they can use to guide their future choices in education and careers.
"I found the workshops and practicals to be really inspiring and intriguing and enjoyed the opportunity to learn more about life as a university student as well as potential routes and careers that I can take in the future." – Tanisha Patel
"This trip to Oxford University helped us gain a deeper insight on how universities work, as well as gave us a chance to see whether we would consider choosing Oxford University as an option after A-Levels. Overall, it was a wonderful experience." – Hinal Solanki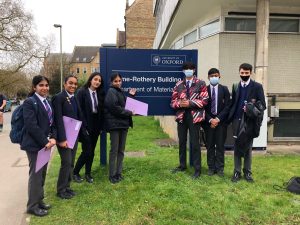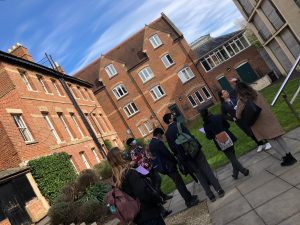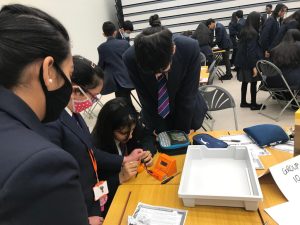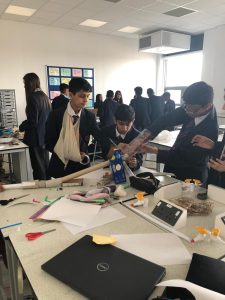 RAF visit 
Last week, Year 7 had a guest speaker talk from Bali (MBE) who was a Logistics manager in the RAF. Bali shared his inspiring story, encouraging our students to be courageous and challenge stereotypes. Bali motivated our students to have high aspirations for themselves and to work hard for what they want. He expressed that it was important to stay true to who they are and that's what really matters.  
Our Year 7 cohort did the School proud by listening respectfully and showing great engagement. A few students even took the time to show Bali how grateful they were for his visit. Thank you Year 7s!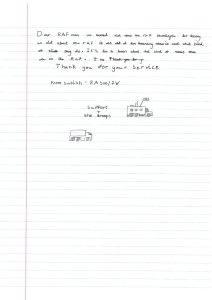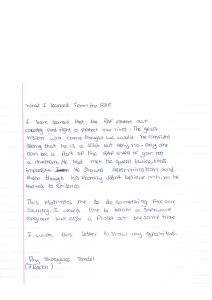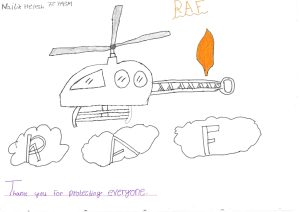 Student Opportunities  
Young Professionals UK have a very exciting event in collaboration with British Airways.  
"On Wednesday 30th March from 5:00pm – 6:00pm we are going to be hosting our first exclusive event with British Airways to showcase the many career opportunities on offer at one of the world's most distinguished airlines. British Airways is the UK's largest international scheduled airline, flying to nearly 600 destinations around the world to millions of passengers".  
Registration link : https://www.surveymonkey.com/r/British-Airways 
The University of Leicester is offering Students in Year 10 an opportunity to take part in their residential Summer School. The subjects are Medicine and Allied Health Professionals and The School of Arts (English and Film Studies). Spaces are limited so please do check the priority list to see whether your Child would qualify. All information as well as the application link can be found following: https://le.ac.uk/study/schools-and-colleges/pre-16/summer-schools 
Unfortunately, there have been a number of instances of computer misuse in school recently.
We would like to remind students and parents that attempting to use another person's computer account is against the law – specifically the Computer Misuse Act.
Under this law it is an offence to even attempt to "hack" into someone else's account, with greater severity associated with changing data in other people's files.
If you suspect that someone has tried to use your user account, please inform Mr. Clampin or the onsite technicians
Huge congratulations to Tanvi Kurra (7 Cosmos) in completing the iDEA challenge and achieving the Bronze award – a fantastic achievement!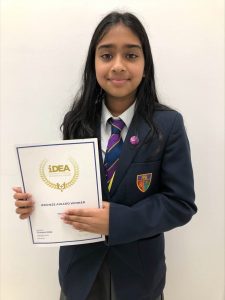 Parents and staff will have received details about a charity appeal from Avanti Trust to raise £10,000 towards food and meal distribution to displaced families in Ukraine.
The PTFA at Avanti Fields School is proud to support this great cause and has donated £101 towards the appeal fund.  We would encourage you all to support the appeal in any way you can – whether that is through generous donations of any amount, and promoting the appeal to your family and friends.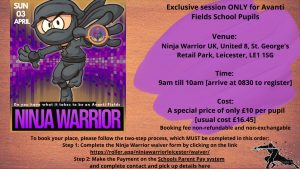 We are currently recruiting for the following vacancy:
Lunchtime Supervisor
If you or any of your friends or family would be interested in applying, please visit our careers website – https://avanti.org.uk/careers/
Y10 careers networking event: Tuesday 22.03.22 and Tuesday 29.03.22
Y7 spring reports on the Arbor app: Friday 25.03.22
Vaccinations – 22nd March 2022 – Covid vaccinations for 12 – 15 year olds. PLEASE GIVE CONSENT EVEN IF YOU HAVE CONSENTED FOR THE FIRST DOSE
Vaccinations  – 31st March 2022 – Year 9    3-in-1 teenage booster and Men ACWY vaccination
For your child to receive their vaccination in school:
2. Select COVID-19 by clicking the "Click here" button next to it.
3. Enter the code for your school. For Avanti Fields School it is LE143679
4. Enter your child's details 5. Press 'SUBMIT' Or you can scan this QR code
Yours sincerely
Miss Bardsley
Acting Principal