"We are unique spiritual beings with incredible potential, and we achieve our full potential by discovering and nurturing all parts of ourselves – intellectual, emotional, physical and spiritual."
I am beginning this week's bulletin with the core principle above, as it strongly links to the provision we provide for our pupil premium students. Last week the school had an external pupil premium audit where we were able to showcase our passion and dedication in narrowing the gap for some of our most vulnerable learners. Although a remote audit, the school had to demonstrate how we have embedded our PP strategy and what this looks like for students in terms of their academic attainment and aspirations. I am proud that the strategies we have in place are bespoke to the student's needs and meet them where they are in their learning journey. In addition to this, our strategy supports students who don't qualify for PP or FSM status, as we as a school community recognize that there are different aspects to a child's vulnerability and are working to address these as part of our larger strategy.
A summary of the findings are:
The school has a sharp focus upon evaluating the impact of pupil premium and Covid funding in terms of educational outcomes and academic performance. This is reflected within the pupil premium strategy statement which includes clear measurable targets for eligible students.
The school also addresses the well-being of students and recognises the need to raise aspirations and broaden students' experiences and perspectives.
The strategy is rooted in relevant research and recognised good practice. There is a clarity of vision which drives the work of the school, and every day provision is linked to the school's stated aims.
The school ensures that achievement is measured across the curriculum, and does not focus purely upon the core subjects. The school is data rich, and uses data effectively to evaluate the impact of teaching and learning across the school.
This week I have had the pleasure of experiencing some of Leicester's culture: Rugby Union! I was able to join Mr Backhouse and some of our Year 9 and 10 pupils to watch a match between the Leicester Tigers and London Irish. A great experience for myself, and I'm sure equally enjoyable for the pupils. More information is provided below.
Miss Bardsley. 
Date: Tuesday 26.04.22 – Friday 29.04.22
This week some of our staff had the opportunity to visit the Avanti Quest site: Vedanta in Lincolnshire and see some of the activities on offer and the facilities. Students will have the opportunity to participate in a range of activities including outdoor team activities, nature walks and spiritual insight discussions.
Staff that are participating in the trip have been added to the "Avanti Quest" Team on Teams. A list of students taking part will be available in the Avanti Quest Team by Friday 1st April.
Parents should now have completed an online form for room requests with their child. Please can this be completed by the end of Friday if this form has not been completed.
Communication with regards to a draft programme for the visit, along with a kit list will be emailed out this week.
Next week our medical officer will be in touch with parents who have stated their child has any medical or dietary needs. A menu will also be shared to give students and parents an idea of the types of food on offer for breakfast, lunch and dinner as well as snacks.
This term saw the launch of our annual networking event 'Inspire Me'. Our Year 10 Students had the opportunity to network with different Professionals across various industries. This included; Law, Media, Community, Public services, Hospitality and Architecture.
It was brilliant to see positive engagement from Students, asking inquisitive questions and practising their interpersonal skills. They were all representing the best version of themselves, thank you Year 10s!
Thank you to all the Professionals who volunteered their time to inspire the next generation. I would like to extend my gratitude to Dipak Patel and Nehal Kotecha from the SSC who have greatly supported the launch of this event and the overall Careers programme at AFS.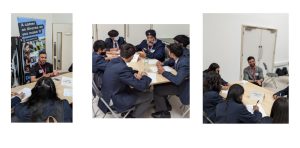 CPS Summer School – work experience
CPS East Midlands is pleased to announce that we will be running two 4-day virtual work experience programme for local students from across the East Midlands.
The programme will enable student to understand the work of the Crown Prosecution Service and broaden their career aspirations in relation to the criminal justice system.
The programme includes a combination of presentations, court observation, mock legal work, and interviews with CPS staff. We intend to run hybrid programmes made up of a combination of virtual and face to face sessions.
The programmes will take place on
28/06/22 – 01/07/22 (09.00 – 14.00)
12/07/22 – 15/07/22 (09.00 – 14.00)
As a School, we can only register two Students. If your Child is interested, please ask them to visit Miss Sicotray in Room 1036 next week during break time. I will share further details with them.
Young Professionals – Easter virtual work experience
On Wednesday 13th April from 9:00am – 4:00pm, Young Professionals are hosting a virtual technology work experience event for Students. They will be joined by some of the world's most successful companies in the space in: PwC, World Wide Technology, Capgemini, IBM, Virgin Media & QA.
Technology is without a doubt the fastest growing industry in the world and as it continues to grow and evolve so will the opportunities for those with a career in the space.
Just like the other virtual work experience events taking place over Easter, certificates of completion will be awarded which you'll be able to add to your CV / personal statement.
To sign up click on the following link: https://www.surveymonkey.com/r/Technology-Work-Experience
Year 10 and 11 summer school- English and Film Studies
24th – 26th July 2022
Our residential summer school is making a return this year! Explore the overlap of English, Film Studies and media/tech in this interactive summer school taking place at the University of Leicester. Not only will you take part in a range of exciting activities and programmes focusing on English and Film Studies, you will also be provided with fantastic opportunities to work with current university students and staff to explore studying the arts at higher education. Students on this summer school will also get the opportunity to put together their own film!
Apply on our webpage here. Or contact us at [email protected] for further information.
Applications are open until the 11th of April.
The time has come for our year 10 students to begin thinking about their progress in their GCSE courses. As such, the school has begun to prepare a strategy to support students and their parents with the school's first official set of KS4 results in summer 2023. The first part of this strategy is to ensure that students are familiar with the formal examination procedures of a GCSE. As such, the school has begun to plan a summer exams timetable for Year 10s, for the week beginning 13th June 2022. More information, revision lists and well-being support will be provided in the summer 1 term prior to the mock exam window.
Friday 8th April: Last day of Spring term (3:30pm finish)
Thank you to all the staff who voted for primary class names. The votes are in, and I am pleased to say we are going for the plant/tree names which I feel effectively captures the growth of our students.
Nursery
Reception
Year 1
Year 2
Year 3
Year 4
Year 5
Year 6
Acorn

Walnut

Buttercup

Daisy

Snowdrop

Bluebell

Daffodil

Tulip

Chestnut

Cedar

Ash

Beech

Willow

Maple

Oak

Elm
Please be advised that from Monday 18th April 2022 there will be a price increase to the cost of school meals. The current price is £2.45 for the main meal and £2.10 for a light meal. This will increase to £2.70 for (Main Meal) and £2.35 for (Light Meal).
This is due to the continued pressure on the cost of wholesale food and national salaries, we cannot avoid this price increase any longer. The impact of this increase will be an increase by circa. £15/term per pupil.
It should be noted that a school meal at Govinda's still provides excellent value for money. We will continue to offer an exciting and varied range of meals, snacks, and drinks which are both healthy and nutritious. All of our menus are developed in line with the nutritional standards set by the Schools Food Trust and the Government's Food Policy in Schools.
For our students in receipt of Free School Meals, the increase will be applied to the daily allowance. This will ensure they continue to have access to the main meal and dessert menu.
We ask for your understanding of these price increases and fully appreciate that times are tough. Govinda's catering remains committed to ensuring that your child's school meal is value for money, healthy, well-balanced, and nutritious.
All staff meals will have the additional cost of VAT 20%.
Yours sincerely
Mike Jones
Managing Director
Govindas Ltd
A huge congratulations to the following year 8 girls (Shristi Ashok, Anaiya Dattani, Rianna Dattani, Anjli Gorthan, Pankti Khambhayata, Shradha Khunti, Keya Mistry, Meisha Patel, Tithi Patel, Diya Popat, Prarthana Shukla, Dhariti Raythaththa) who have been selected to take part in a Your Time Leadership Programme which is a new learning programme to encourage more girls to play competitive sport. The girls will be starting the first of a three year programme and are excited to start their training and launch some events in the future. Also, a massive thank you to Tanisha Patel and Shivani Kandoi in year 10 who have offered to guide and support the girls. #TheseGirlsCan #GirlsinSport #AvantiGirlsSport
On Tuesday our Y9 pupils had the opportunity to have a bespoke session by a Leicester tigers coach which was a fantastic opportunity for our pupils that had not played much rugby before. The pupils defiantly made the most of the session and showed courage and resilience when taking part in the various activities. In the evening the Y9's were joined by the Y10 pupils to watch Leicester Tiger vs London Irish in the rugby premiership. It was an enthralling match with plenty of free flowing rugby to see. At half time the pupils had the unique opportunity to have a photo on the pitch and soak up the atmosphere. The pupils were outstanding with their behaviour and they represented the school with pride. I am delighted to have had so many pupils talking about how much they enjoyed the trip.
Yours sincerely
Miss Bardsley
Acting Principal