Thank you for your cooperation with regards to the new pick up and drop offs to the school.  We have had positive feedback from the community and it has been a welcomed move for our local community.   
A reminder that if you would like to communicate with a member of staff, please visit the school website to complete the relevant online form which will be directed to the appropriate member of staff.   All behaviour and attitudes queries should be directed your child's tutor followed by the Head of Year.  All teaching and learning queries should go to the appropriate Head of Department or Subject Lead in the first instance.  Staff will get back to your query within 3 working days. 
We pride ourselves on our positive relationships with our school and wider community and it is with this sentiment that we draw your attention to our Avanti Way and one of our core principles by politely requesting  that all communication is calm and respectful at all times.  
 "We each observe the one same reality from our own unique perspective and engage in open-minded dialogue to deeply enrich our vision". 
 Finally, I want to highlight that we only have three weeks remaining for this academic year. Next week's bulletin will focus on sharing key information with parents about the upcoming year. It will include term dates, school expectations and updates about our curriculum plans.  
Art Showcase … look out for celebrations of our student's creative endeavours in Art over the final weeks of term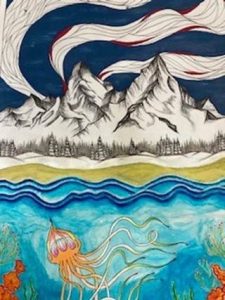 We have seen a rise in the number of students suffering from hayfever symptoms in the school. If parents wish to leave any hayfever medication for their child, please give this to reception and complete a form which will enable the school medical officer to administer it.  Any medication should be labelled with the child's name.
A huge well done to the year 9/10 cricket team who demonstrated all the Avanti values and did us proud in their cricket match against Orchard Mead. Despite losing and quite a few contentious decisions the boys kept their composure and played their very best right up until the end. If you see the boys please congratulate them as this was only their second game and without any outdoor practice. 
Communications – Wherever possible please use the contact form on our website to get in touch. This is detailed on the website at https://avanti.org.uk/avantifields/contact-us/. The appropriate member of staff will pick up the message and get back to you as soon as possible.
Wednesday 22nd June: Year 7 Parent's Evening

 

Monday 20

th

– Friday 24th June: Year 10 Work Experience

 

Tuesday 28

th

June: Year 6 Transition Day

 

Friday 1st July: Ratha Yatra Chariot Festival Day

 

Tuesday 5th– Friday 8th July: Year 7 Avanti Quest

 

Friday 8th July: Last day of academic year (half day – students will finish at 1.40 pm)
The term dates for 2022/2023 can be found on our website here.
Yours sincerely
Miss Bardsley
Acting Principal