As we are heading towards the February half-term, I wanted to highlight several events that have taken place since we returned from Christmas; we have had a very exciting start the 2022! 
Our Year 9 students have selected their options for next year. After the half-term break, students will have the opportunity to discuss their choices with the senior team to ensure that they are suitable for the course. The school launched our tuition programmes with The Brilliant Club and TalentEd. This tuition ensures that pupils do not fall behind at school because of how Covid-19 has impacted their studies. The school has launched the house system and interviews for House Captains will begin after the half-term. Our sporting efforts have been exceptional, with wins in cricket and badminton. And finally, our scientists competed in the IET Faraday Challenge. As you can see, there is something for everyone to be involved in at Avanti Fields and more is planned for the remainder of the academic year.  
Later in the bulletin, you will see key updates about our expectations for behaviour and attitudes around the school. I would like to thank the entire pastoral team at Avanti Fields – the work they do ensures that children at the school feel safe. If parents can please take the time to discuss the school's expectations with your children in the holidays it would be appreciated. 
And finally, I want to reflect on one of the core principles from The Avanti Way to guide us into the half-term break: 
"We are unique spiritual beings with incredible potential, and we achieve our full potential by discovering and nurturing all parts of ourselves – intellectual, emotional, physical and spiritual." 
I strongly believe that time taken to pursue activities that enrich our lives is so very important. Please encourage your children to take the opportunity to recharge their batteries, but also get out of the house for a short period each day.  
Enjoy the half-term and continue to remain safe. 
Avanti Fields Behaviour and Attitudes- Be the best version of yourself 100% of the time   
As we approach the end of term, we would like to remind and set the expectations in advance of next term around the Avanti behaviours and attitudes we wish our whole school community to embody. As part of the culture and ethos of our school we would like to work in close partnership with all our parents to ensure that all our students are able flourish and strive to be the best version of themselves 100% of the time.  
In preparation for the start of a new half term please could we ask all our families to reflect on our core values, the key learner behaviours, and qualities we want to grow and develop in all our students during their time at Avanti Fields. Please see our Avanti Way Wheel visual, which was created and developed by our Avanti Fields whole school community, and which highlights many of the learner behaviours and qualities we want all our students to embody, in order that they can be successful at Avanti Fields and beyond.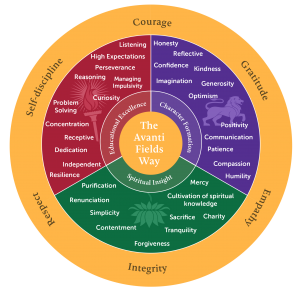 Be an even better version of yourself and follow the Avanti Fields non-negotiables 
As we settle into school life in our beautiful school building, we want to ensure that behaviour and attitudes remain exemplary. Below are a set of key non-negotiables which this half term we have been asking all our students to consistently follow. These non-negotiables are very important to us in maintaining high standards of behaviour as we know that the latest educational research shows that there is a direct correlation between excellent behaviour, wellbeing, and academic progress.  
Behaviour in the corridors and around school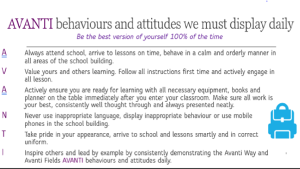 Behaviour in the corridors and around school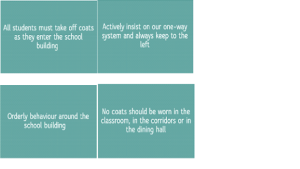 Next term we plan to incentivise our students to behave positively and take ownership of their choices…even when no one is watching. So ... we are launching the 'get caught being good' strategy, a phrase coined by our year 10's who are desperate to increase their rewards at school. One plan is to launch tangible reward cards for students to show parents, which will run alongside our rewards point and House point systems which are currently logged on Arbor.  If your child has any further ideas for positive rewards, please ask them to share them with their Head of Year. 
Avanti Fields Behaviour for

l

earning,

s

anctions, and

s

teps   
At the heart of all excellent schools is a clear and concise rewards and behaviour system. For your information below is our consequence system flow diagram which illustrates the process of behaviour sanctions at Avanti Fields
Five Golden Questions
This half term, as an integral part of our Avanti Fields behaviour policy we have been placing a strong emphasis on restorative practices and conversations. At all times we seek to maintain, repair, and rebuild positive relationships in all aspects of school life. 
This year so far, all teachers have received training on restorative practices and conversations and all staff wear restorative conversation prompts on their school lanyard. We are embedding these restorative conversations with students daily. We would be extremely grateful if you could support us at home with this restorative approach to resolve and repair conflict and support open and rich dialogue with your children. Please see the conversation prompts below to use too so that we have a full 360 degree consistent message and approach with all our wonderful learners.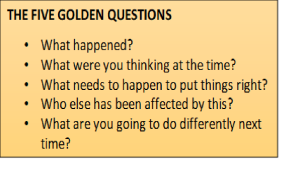 Leading the Avanti Fields Way for behaviour and attitudes. House and Student Leadership  
Whilst we really value parental support to allow your child to flourish at Avanti Fields, we also recognise that we need to enable our young people to manage, navigate and take ownership of their own learner behaviours and qualities. Next half term we are excited to launch the next stage of our House Student Leadership Programme and carry out the Form Captain interviews; more details will be communicated to students at the start of next half term. Thank you to the wonderful responses from all those who have applied, we will be in contact very soon. 
Wellbeing – Children's mental health week 7th-11th February  
All this week during form time students have been shown 5 videos on how to improve and manage their mental health using the PERMA model. If you wish to use these videos at home, please click on the link below.  
https://youtube.com/playlist?list=PLNeJLRyLeJmsvmodLSXlnFw_QgEBDAYnO 
See below for a helpful website to support your family 
Parents and Carers – Children's Mental Health Week (childrensmentalhealthweek.org.uk) 
Wishing everyone a refreshing half term, best wishes from all the Pastoral Team at Avanti Fields.  
Faraday Challenge Day  
This week, 36 of our year 8 students took part in the IET (Institution of Engineering and Technology) Challenge Day. Students worked in teams of six to complete a range of tasks and present their ideas. They were judged on a success criterion and how well they worked as a team. Our year 8 students were a credit to the school and the winning team were awarded £10 gift vouchers each and a winner's plaque for the school. We are extremely proud of our students, how they conducted themselves and the resilience they showed when trouble shooting problems in their designs. The presenter and staff involved fed back that they thoroughly enjoyed the high-level of discussions that took place and mentioned how wonderful it was to see our students' passion and enthusiasm for science throughout the day.
Well done to all students who took part and huge congratulations to the winning team!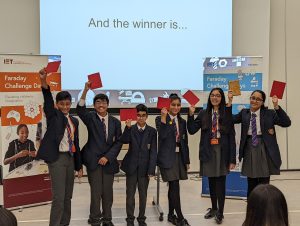 Lunch Cards 
Please could you ensure that your child presents their lunch card when purchasing snacks and lunches, this is to avoid payment issues. If the student has lost their card, a replacement can be provided for a charge of £5 from the office. 
Lost property 
Please can parents ensure that pupils uniform/ bottles etc. are clearly labelled with their name as we have a lot of items of lost property held in school. We can make sure the lost property is returned if it is clearly labelled. 
The school does not encourage any pupils to bring any valuables. If your child chooses to bring expensive valuables, the school can not take responsibility for this. 
Absence
To report an absence to the school, parents should contact us by 8:30am. 
Email: [email protected]
Phone: 0116 326 6813 (Option 1 to leave a voicemail) 
Please remember to state your child's full name, tutor group and reason for absence. If your child is unwell, please could you give a brief description of the symptoms. 
Yours sincerely
Miss Bardsley
Acting Principal