The return after the half-term, with its horrendous weather has been smooth and thankfully rain-free. We begin the Spring 2 term with a focus on reinforcing behaviour expectations. This week all form tutors have completed a uniform check and spoken to students if any parts of their uniform are not up to standard. The Heads of Year also have a planned schedule of information they will be delivering over this half-term to continually remind students about the various aspects of what exceptional behaviour looks like and a focus on the "caught being good" strategy. I have taken the time this week to email all our students to reaffirm our school expectations and provide key information. Below are the key whole school messages we would like all our students to follow and once again if you could take some time to talk to your children about the school behaviour expectations that would be much appreciated.  
Since the Spring term began, I have been including one of the core principles from the Avanti Way in each edition. The final core principle is: 
"We care for and respect all life – human, animal and plant – and live in a way that causes the least possible harm." 
This is a hard principle to provide explicit examples for everyday incorporation, as for the most part we tend to think about large scale initiatives. I would like to link it to taking pride and care in our school environment, particularly outside. We will all work together on this, and we would like to ask our students to play a key role by disposing of their waste responsibly and to be respectful of their school environment. We are currently organising the provision of recycling stations and bins around the school site. 
Wishing all our students and their families a positive half term ahead! 
Miss Bardsley  
 Lunch A: 11:55am – 12:45pm 
Year 7 to line up first on the playground and go in for lunch. Year 7 students should sit at the table closest to reception first. 

Year 9 to line up on the playground 15 minutes after the Year 7s and go in for lunch. 
Lunch B: 12:50pm – 1:40pm  
Year 8 to line up first on the playground and go in for lunch. Year 8 students should sit at the table closest to reception first. 

Year 10 to line up on the playground 15 minutes after the Year 8s on the playground and go in for lunch. 
The queue order for students to go in for lunch will change after the Easter holidays. 
 ➢ All students should line up outside on the playground first.  
➢ No queue jumping.  
➢ Lining up should be in a calm and orderly single file. 
Uniform expectations:  
➢ Grey or black sock or black tights should be worn (not white or coloured).  
➢ Black leather, or leather like shoes (not trainers) should be worn.  
➢ No necklaces or bracelets (unless they are religious). If religious, they should be worn underneath the school uniform.  
➢ Only one small gold or silver stud earring in each ear to be worn. No diamante or diamond style studs or other types of earrings should be worn.  
➢ Jumpers and scarves should be removed before you enter the building and carried around the school (not worn) 
Attendance and punctuality expectations: 
Students should be attending school each day. 98-100% attendance is exceptional, but as a school we are currently at 93.2%. We want to encourage all students to think carefully about the learning that they could be missing when missing a day of school.  
The school bell rings to give a 3–5-minute warning at the start of the day, at the end of break and the end of lunchtime to ensure punctuality to lessons. 
Timings of the school day arrangements:  
As some year groups now have 3 lessons after lunch, we will be running a 6-week trial of introducing a short 5-minute break between period 5 and period 6 each afternoon. The 5-minute break is students' chance to use the bathroom or to quickly access their locker. Students are to remain inside the building during the break. 
Period 5: 1:40pm – 2:30pm  
Break: 2:30pm – 2:35pm  
Period 6: 2:35pm – 3:30pm 
Attitudes to

l

earning

e

xpectations:
We want to ensure that learning in classrooms is exceptional. A reminder of the consequence flowchart to promote and maintain a positive learning environment for all, is below: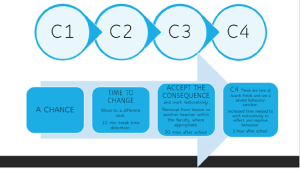 School day expectations:  
➢ Students should only be in the school building from 8:15am to begin to access their lockers and get ready for the start of the day.  
➢ On days with severe weather, students may enter from 8:00am, but must remain in the dining hall until 8:15am. There is no need to walk around the school building before school begins. 
 ➢ Students should take care of their lockers and take pride in the equipment given. We would like to see lockers and communal spaces neat and tidy.  
"Get caught being good"  
This term we are launching a "get caught being good" strategy. There will be rewards for students, which run alongside our achievement and house points systems. Students should set a good example for their peers and show us how good everyone can be! 
Student leadership – House

U

pdates 
This week Mrs Kansara has organised and communicated to students, the dates and timings for Form captain and House captain interviews. Interviews will run from Monday 28th February to Friday 4th March at various points in the school day. To support the process, our Careers Lead, Miss Sicotray has the following guidance and advice: 
"The House interviews are a fantastic way to start the career portfolios and strengthen students' holistic learning journey. It also supports Avanti Fields School in achieving Gadsby Benchmarks."  
An overview of the Benchmarks can be found here:https://www.gatsby.org.uk/education/focus-areas/good-career-guidance .  
Miss Sicotray will make herself available at breaktime (all week excluding Thursday) to offer individual support / a confidence boost.  
"To have their first experience of an interview in a familiar and safe setting with people they know is favourable. It allows students to be courageous and grow in confidence."  
Good luck to all our students involved!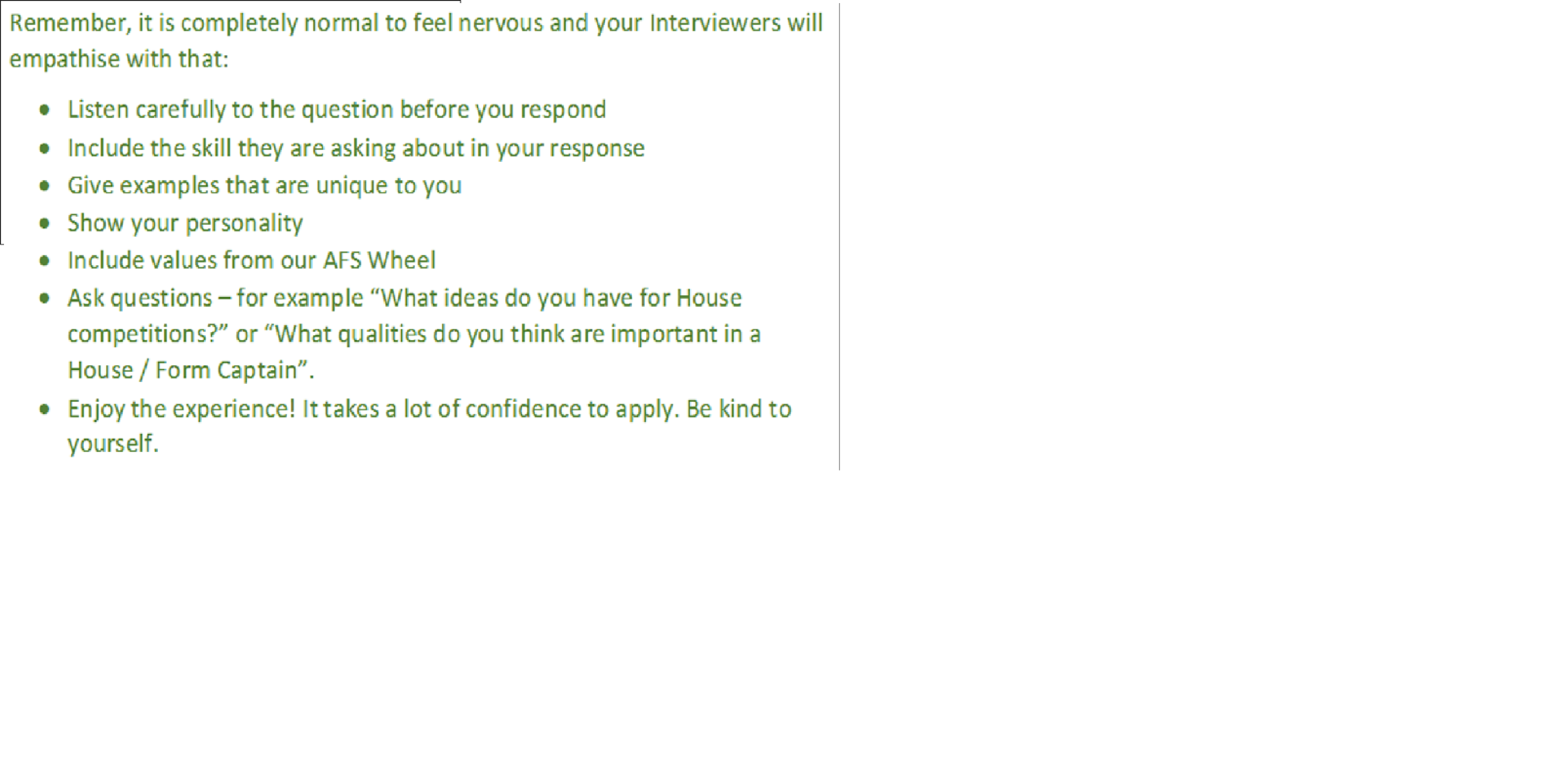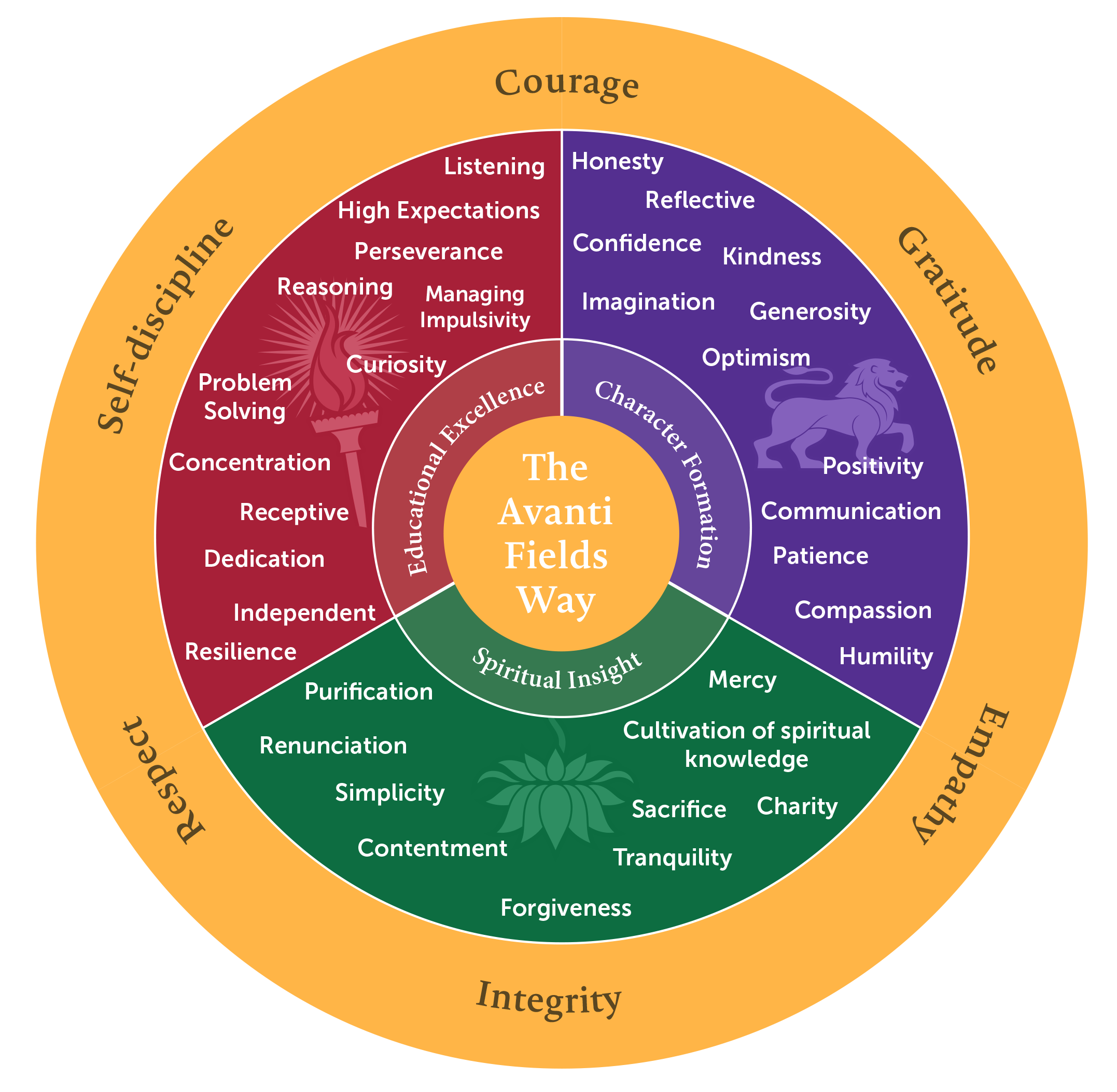 Careers Volunteering Opportunities
We are seeking Professionals to support Inspire Me – networking event. The aim is to introduce Year 10 students to a wide range of jobs, broadening their horizons and encouraging them to aim high. I am seeking inspirational role models from different sectors, particularly : 
Health

 

Social care

 

Creative and Digital

 

Engineering and advanced manufacturing

 

Food and drink

 

Business, Finance and professional services

 

Space

 

Construction

 

Logistics and distribution

 

Low Carbon

 
We will run the same event twice on the 22nd and 29th of March. Different students will attend each event. The event will run from 2.30 – 3.30pm at Avanti Fields School. Guests can attend both or one event, dates are your preference. 
To express your interest please contact : [email protected]  
Wellbeing – Webinars for all our parents/ carers  

This week information and guidance for the next round of Anna Freud family webinars have been emailed to all parents/ carers. The courses are specifically designed for parents/ families of secondary school students and are run by the Anna Freud centre for children and families. Please see below for more details on the content and themes of each of the sessions for March 2022. Also, please find below registration links for the parent/carer group sessions and webinars taking place. Please check your emails for further guidance and TEAMS joining links.  
There will be 6 parent/carer groups running with introduction meetings being held the w/c 28th February. Please note that, following feedback, The Anna Freud centre are again offering a Dad/male carer group. The structure of the group is the same as the one for all parents/careers but will aim to also think about the specific challenges faced by Dads and male carers of adolescents.  
The dates of the introduction meetings are below: 
Monday 28 February

12-1pm (groups then run on 7, 14, 21, 28 March). 

 

Tuesday 1 March

12-1pm (groups then run on 8, 15, 22, 29 March)

Tuesday 1 March

7-8pm (groups then run on 8, 15, 22, 29 March)

 

Wednesday 2 March

12-1pm (groups then run on 9, 16, 23, 30 March)

 

Group for Dads and male carers

– Wednesday 2 March 7-8pm (groups then run on 9, 16, 23, 30 March)

 

Thursday 3 March

5-6pm (groups then run on 10, 17, 24, 31 March)

 
This is a link to a short video, which can be used by all parents/carers if helpful in outlining further information about the groups: https://www.annafreud.org/media/15148/sss-connecting-parents-and-carers-group.mp4 
 There are 5 webinars running with the following topics: 
Building resilience, staying connected and nurturing your relationship with your teen (Tuesday 1 March, 5-6pm)

 
Weathering the storms of strong teen emotions: do's, don'ts and when to consider talking to someone (Wednesday 9 March, 5-6pm)

 

Managing teen behaviour that challenges: tips and tricks (Friday 18 March, 12-1pm)

 

Adolescent self–harm: how to make sense of it and when to seek support (Tuesday 22 March, 5-6:15pm)

 

Anxiety in adolescence: how can parents help? (Tuesday 29 March, 12-1pm)

 
Lunch Cards 
Please could you ensure that your child presents their lunch card when purchasing snacks and lunches, this is to avoid payment issues. If the student has lost their card, a replacement can be provided for a charge of £5 from the office. 
Lost property 
Please can parents ensure that pupils uniform/ bottles etc. are clearly labelled with their name as we have a lot of items of lost property held in school. We can make sure the lost property is returned if it is clearly labelled. 
The school does not encourage any pupils to bring any valuables. If your child chooses to bring expensive valuables, the school can not take responsibility for this. 
Absence
To report an absence to the school, parents should contact us by 8:30am. 
Email: [email protected]
Phone: 0116 326 6813 (Option 1 to leave a voicemail) 
Please remember to state your child's full name, tutor group and reason for absence. If your child is unwell, please could you give a brief description of the symptoms. 
Yours sincerely
Miss Bardsley
Acting Principal